Christie's Record-Setting Auction Is a Win Against Sotheby's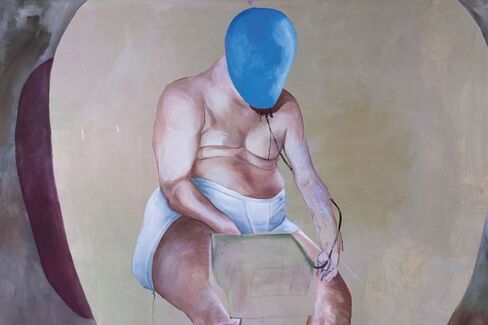 Christie's auction on Monday, a bold and risky experiment titled "If I Live I'll See You Tuesday," set 16 world auction records and exceeded even the most optimistic expectations by raising $134.6 million. The Manhattan sale was noteworthy not just for what sold—the kind of in-your-face contemporary works known to send some politicians over the edge—but for how the sale transpired.
In an industry that tends to hawk its treasures in reverent tones to mature patrons, Christie's deployed tools of mass marketing typically reserved for the young—from skateboarder Chris Martin and indie rock band Awolnation to Instagram and YouTube. The result was buzz that extended far beyond the traditional art world, including kudos in Adweek and coverage on skateboarding sites.
http://www.youtube.com/embed/MWj5wYO8kkI
In the process, Christie's Chief Executive Officer Steven Murphy dared to risk the wrath of art critics such as the Los Angeles Times' Christopher Knight, who dismissed Monday's effort as "clumsy art shtick." New York Observer critic Michael Miller couldn't even make it to the halfway point of the four-minute promotional video for the show before turning it off. (Art dealer/curator Kenny Schachter dubbed it downright preposterous.") Even Wade Guyton, one of the featured artists, was so offended at the high estimates for his inkjet work that he photocopied multiples and posted them on Instagram in protest. (The effort apparently didn't work, as his Untitled work sold to a telephone bidder for more than $3.5 million.) "Any time you experiment, it's a risk," Murphy said at a Christie's reception last week. "It's a lot easier to embrace new approaches when you have a brand like Christie's."
Murphy was also betting on the personal brand of Loic Gouzer, the company's charismatic contemporary art expert who seems to get as much press for his good looks as his good eye. The Geneva-born Gouzer, 33, handpicked each of the 36 pieces, deliberately mixing art from relatively unknown rising artists such as Alex Israel with work from modern art stars like Andy Warhol and Jeff Koons. (The show's title comes from a piece by Richard Prince.)
Gouzer said he personally cajoled many of the buyers into putting works into the auction. "They trusted me when I say what to buy," Gouzer tells me at a Christie's reception, "so they trusted me about when to sell." Having doubled or tripled their initial investment, some may have felt grateful—or comforted by the minimum price he guaranteed on 13 of the works. Then again, when you can afford to drop $10 million on a painting, maybe you're just looking for a wall change.
Gouzer promoted the show through his personal Instagram account and a YouTube video that featured Martin skateboarding with an air of recklessness around the exhibit. "It matches the feel in the art, the feel of the buyer, " he says. That's especially true of such younger tech-savvy buyers as Tobey Maguire, who showed up. For the younger generation of art investors, who have often made their billions in a startup environment, the idea of acquiring an artist early has particular appeal. "Even if they sell for millions of dollars, these pieces are worth a fraction of what they'll be worth later on," says Gouzer.
Did it matter that most of the room was packed with familiar faces like that of Eli Broad? Not really. Murphy, formerly a Disney Publishing executive and president of EMI Music/Angel Records, points out that mass-market awareness typically increases the value of a product, whether it's a song or a piece of art. That's why he has moved to do much more online while setting up wholly owned offices in China and India. Almost a third of Christie's customers last year were first-time buyers, helping to catapult the auction house ahead of Sotheby's for the second year in a row. Let traditionalists rage. As Murphy says, "Whatever we're doing seems to be working so far."
Before it's here, it's on the Bloomberg Terminal.
LEARN MORE