Underwear, Electric Chair Fuel Christie's New York Sale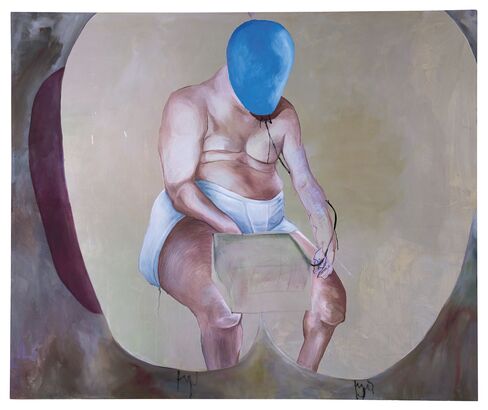 Christie's sold $134.6 million of contemporary art in New York in an hour as international buyers from 26 countries chased after works including Andy Warhol's electric chair silkscreen and Martin Kippenberger's slouching man in his underwear.
Titled "If I Live I'll See You Tuesday," the auction yesterday surpassed its high target of $124.1 million as 11 artist records were set, including those for Richard Prince, On Kawara, Wade Guyton, Dan Colen and Kippenberger. Of the 35 lots offered, all but one found buyers. Similar to last week's Impressionist and modern art auctions, Asian collectors competed fiercely, winning at least two of the top 10 lots, Christie's said.
The sale was an experiment: Typically, Christie's, rival Sotheby's and boutique auction house Phillips each hold one evening sale of postwar and contemporary art in May. "If I Live" was an addition to the usual lineup, preceding Christie's marquee sale today that is expected to tally about $500 million.
Packed Room
Los Angeles billionaire Eli Broad, London jeweler Laurence Graff and hedge-fund manager David Ganek were among some 800 people who packed the midtown Manhattan sales room to see how the art market would respond. The Standard & Poor's 500 Index closed yesterday at a record 1,896.65 as U.S. stocks rallied anew. The index was up 0.02 percent today at 12:32 p.m.
"The number of people around the world interested in acquiring art at all levels is exploding," said Christie's Chief Executive Officer Steven Murphy. "We are not in a bubble."
The sale, which took its title from a Prince painting that fetched $4.64 million, kicked off a week of postwar and contemporary sales of art in New York that is expected to rake in $1.5 billion.
The top lot was Kippenberger's untitled 1988 painting, depicting a slouching man in white underwear, which fetched $18.6 million. The price surpassed the high estimate of $12 million and the artist's previous record of $6.4 million. Prices include buyer's commission; estimates don't.
Bidding Contest
Bidding started at $6.5 million, quickly turning into a contest between Xin Li, Christie's deputy chairman in Asia, and Robert Manley, Christie's international director and head of postwar and contemporary art, on behalf of their clients. Li won.
The Kippenberger was one of 14 guaranteed lots in the auction, meaning that sellers were guaranteed undisclosed minimum prices regardless of whether the works sold or not. Christie's outsourced the risk to third parties for 13 of the lots, effectively pre-selling them.
The auction was a brainchild of Christie's specialist Loic Gouzer, who last May helped organize an additional evening charity auction that raised about $39 million for Leonardo DiCaprio's conservation projects. This year, Gouzer received the green light for a commercial auction that includes many of the same artists who were in the DiCaprio sale.
"It was very much a funky idea," said Gouzer at a post-auction press conference. "The estimates were pretty aggressive but that was the bet I made. "
Skateboard Video
To appeal to younger international collectors, Christie's promoted "If I Live" on Instagram. It released an unusual commercial featuring skateboard star Chris Martin doing jumps near and around expensive artworks. The ad was seen by more than 130,000 on social media platforms, Christie's said. Martin attended the auction.
"I am sure that James Christie could not have succeeded if he hadn't done the equivalent of the skateboarding video for its time," Murphy said of the auction house's founder in an interview before the sale. "He invited the public to walk through the great house, which they would not have had an access to before, look at the pictures, objects and furniture. And then he held the sale."
"If I Live" was part of the 248-year-old auction house's long-term strategy to attract a broader group of buyers.
"I think we are probably in regular contact with half, maximum, of the potential audience," Murphy said. "But the audience keeps growing. There is a boom in clients in the 40 to 50-year-old age group."
New York art adviser Thea Westreich said the success of the auction was due to the marketing.
"I've never seen so much sophisticated marketing in the art world," said Westreich said. "It's very glam and excessive. It works for the community it's targeting."
Prince's Record
Doig's landscape "Road House" (1991) fetched $11.9 million, a record for the Scottish artist now based in Trinidad. The winner was an anonymous Asian woman in the front row.
Prince's "Nurse of Greenmeadow" sold for $8.6 million, setting an auction record for the American artist.
Newsprint magnate Peter Brant competed for Andy Warhol's small yellow and black silkscreen painting "Little Electric Chair" (1983), eventually losing to Li's telephone client. The work fetched $10.5 million, surpassing the high estimate.
Brant won Prince's color print "Untitled (Girlfriend)" for $785,000, above the high estimate.
Broad bought Damien Hirst's 12-foot-tall canvas "Fear" made with flies and black acrylic paint for $905,000, and John Baldessari's group of photographs "Grimm Fairy Tales: The Frog King" for $485,000.
Art Flipping
Younger artists accounted for a large number of records. Six works, or 17 percent, came to auction within three years of being made as the art flipping trend continues.
Auction debutant Alex Israel's 2012 "Sky Backdrop" fetched $1 million, more than three times the high presale estimate of $300,000. One other work by Israel, a hot commodity on the resale market, was pulled from auction in the past six months, possibily leading to pent-up demand.
Another auction first-timer, German artist Michael Riedel's 2012 geometric composition "Untitled (td bgcolor)" sold for $305,000, surpassing the high estimate of $120,000.
A large abstract painting "SP51" by Los Angeles-based Sterling Ruby sold for $965,000, also above the high estimate.
Colen's 2006 painting depicting a candle from Walt Disney Co.'s "Pinocchio" fetched $3.1 million against the estimate of $2 million to $3 million. In 2006, the work sold for $25,000. Colen made about a dozen similar paintings, each with a different text.
The winner was Meredith Darrow, an art adviser based in Los Angeles and New York, who bought it for a client. The consigner, who bought the work from Peres Projects in December 2006, realized a more than 12,000 percent gain.
"If you collect Dan Colen in depth, this work is the Holy Grail," said Darrow, exiting the auction. "It's a good investment. Dan made only a handful of these paintings. Down the road, they'll be hard to find."