Apple Among Most-Sued as Patent Shakedowns Skew Market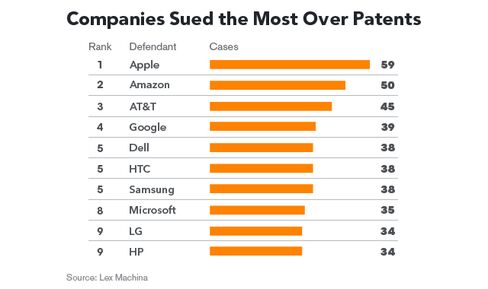 Apple Inc. and Amazon.com Inc. were the most frequent targets of U.S. patent-infringement lawsuits last year in an increasingly complex legal climate that Congress and the Supreme Court are being asked to control.
Of the 6,092 patent-infringement suits filed, 10 companies -- all patent-licensing firms -- were responsible for almost 13 percent, according to a report today from Lex Machina, a Menlo Park, California-based legal analysis company. Three of those companies filed more than 100 lawsuits each.
"The patent litigation environment continues to be active and at times unpredictable," Owen Byrd, general counsel for Lex Machina, said in an interview. "There is still growth in patent litigation and clearly a measurable percentage of that growth comes from" so-called patent monetization entities.
Companies including Google Inc. -- the fourth-most sued -- are pushing lawmakers to make changes they say would discourage patent owners who rely on the high cost of litigation to extract quick settlements from companies. Congress is considering multiple proposals and the Supreme Court has six cases this term and at least one in the next on patent litigation.
"When you're talking about hundreds of thousands of software patents sitting out there in the world, you need a very small percentage of them to cause real damage," said Julie Samuels, executive director of Engine Advocacy, a San Francisco-based group that has called for stricter patent lawsuit rules.
Vehicle Tracking
A group whose members include Apple and Microsoft Corp. -- No. 8 on the Lex Machina list -- advocate some changes while warning that going too far would hurt the economy since so many companies rely on patents to protect products from being copied.
The total number of lawsuits claiming patent infringement rose 12 percent last year from 5,418 in 2012, the report showed. Apple was sued 59 times, Amazon, 50 and AT&T Inc., 45. Courts in eastern Texas and Wilmington, Delaware, were the busiest.
The most litigious U.S. patent owner is based in Luxembourg and owns patents related to vehicle tracking and notification systems, according to Lex Machina. ArrivalStar SA and its partner Melvino Technologies Ltd. of the British Virgin Islands filed 137 patent-infringement lawsuits last year, and might have filed an even greater number had it not reached an agreement in June in which it pledged to stop demanding royalties from municipal transit agencies.
Silver Bullets
The rise in litigation is partly because of 2011 changes in how lawsuits were filed. Before, a patent owner could file a single suit against dozens of companies; now all defendants must be related in some way.
Court rulings over the past eight years that have limited damages made it more difficult to block products, and eased rules to invalidate patents also may be a factor, said Jason Cassady of Caldwell Cassady & Curry in Dallas, which often represents patent owners. License negotiations are more likely to lead to lawsuits from both "the shakedown entities and the legitimate patent holders," he said.
"People do not voluntarily take licenses anymore," Cassady said. "They're much less likely given the silver bullets involved in litigation and the patent office these days."
In a filing with the Supreme Court, Apple said that for every case that reaches court, it gets dozens of letters demanding royalties. The number of demand letters being sent out by patent owners is unknown, and hotly debated, with a White House report last year estimating that more than 100,000 companies were threatened in 2012.
Loser Pays
Congress is considering proposals that would require patent owners to make clear who really controls the patent, put on hold lawsuits against the users of technology in favor of suits involving the manufacturers, and mandate that the loser in a patent case pay the winner's legal fees except in limited circumstances.
RPX Corp., a San Francisco-based company with technology company investors that buys patents to keep them from being used against its clients in lawsuits, yesterday announced a new search engine for litigation.
Among the top 10 suing companies last year, only one is outside the software or computer realm. Thermolife International, a maker of nutrition supplements, filed 117 lawsuits last year, mostly with a patent that originated with Stanford University for a way to enhance exercise performance.
Fighting Back
The Lex Machina study indicated that fighting lawsuits instead of settling could lead to success. The number of invalidity decisions has risen sharply since 2011. In 2010, there were just two instances when a judge ruled that the invention wasn't eligible for patent protection; last year it happened 14 times.
Big operating companies also had better luck when it came to damages, especially if they involved medical devices or biotechnology. Of the top 10 damage awards issued in 2013, the top seven were to companies that sued a competitor. The highest on the list for a patent-licensing firm was a $27.5 million verdict won by a Colorado company against AT&T over how video is streamed online. That case is on appeal.