Virgin America Finally Gets Some Love From Dallas in Airport Fight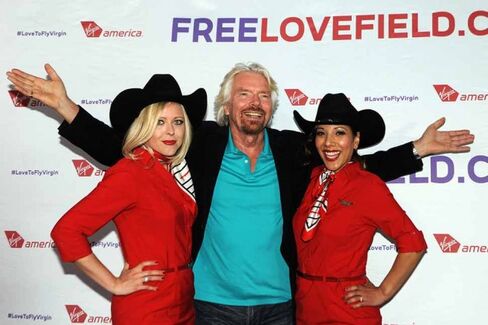 The spectacle of a large fight over access to a small airport ended on Monday, when Dallas agreed to Virgin America's sublease of two gates at Love Field that had been contested by Southwest Airlines. Federal regulators had required American Airlines to divest the gates as part of its December 2013 merger with US Airways.
"We are very pleased to have the opportunity to bring new competition to Love Field, an important airport for travelers because of its proximity to the city's central business district," Virgin America Chief Executive Officer David Cush said in a statement. In an interview last week, Cush accused Southwest of seeking to further its monopoly at the airport, which is about 19 miles east of the larger Dallas-Fort Worth International. Southwest has 16 of the 20 Love Field gates and carries about 97 percent of the passenger traffic there.
Virgin plans to move all its Dallas flights to Love Field in October, when the airport will no longer operate under the Wright Amendment, a 1970s federal law that restricted flights to bordering states to protect the growth of then-new DFW Airport. The airline will begin nonstop flights to Los Angeles, New York's LaGuardia Airport, San Francisco, and Reagan National Airport near Washington. Southwest also plans to add nonstop flights from Dallas this fall on all those routes except San Francisco. Delta and United also have a few daily flights from Love Field to Atlanta and Houston, respectively.
The fight was largely a test of how much clout Southwest wields in Dallas—its headquarters city. It prompted Virgin to summon minority owner Richard Branson to Texas, from a Caribbean holiday, to help lobby for its position.
Before it's here, it's on the Bloomberg Terminal.
LEARN MORE