Ukraine Separatists Say Referendums Support Independence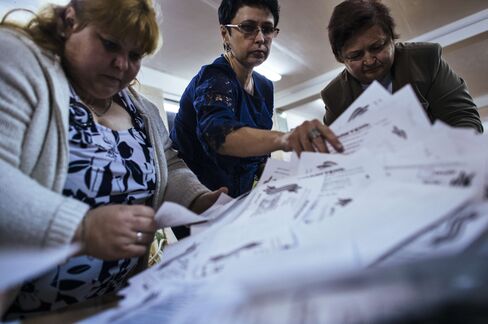 Pro-Russian groups said large majorities voted in favor of secession in referendums they organized in eastern Ukraine that were dismissed as illegitimate by the government in Kiev and its U.S. and European allies.
In Donetsk, 90 percent of voters backed the breakaway plan, RIA Novosti reported late yesterday, citing Roman Liagin, head of the local election committee. In Luhansk, the other region voting, 94 percent to 98 percent supported autonomy with turnout at 75 percent, RIA said. Final results are due later today.
The votes went ahead amid violent clashes between government troops and pro-Russian rebels. Ukraine's acting president called them a "farce." Russian President Vladimir Putin has been accused by Kiev and its allies of stoking the separatist unrest. He hasn't decided his position on the referendums, the Kommersant newspaper reported.
The referendums are "inspired by Russia's leaders to completely destabilize Ukraine, undermine presidential elections and overthrow Ukraine's authorities," acting President Oleksandr Turchynov said on parliament's website. "This propagandistic farce will have no legal impact apart from criminal responsibility for those who organized it."
Sanctions Threat
The Ukraine crisis has revived Cold War hostilities, with the U.S. and the European Union imposing sanctions on Russia and threatening to escalate them.
U.S. House speaker John Boehner said yesterday that penalties should be broadened to include Russian banks. EU foreign ministers meet today in Brussels to discuss expanding the list of those subject to sanctions and may target Russian companies that seized assets in Crimea after it was annexed.
French President Francois Hollande said tougher measures should be imposed if Russian interference prevents Ukraine's May 25 presidential elections from taking place.
Russia's stocks and currency have plunged this year on expectations such measures will hurt the economy. They pared losses last week after Putin signaled he may cut back Russia's military presence on the border and softened opposition to the Ukrainian election.
The ruble weakened 0.4 percent against the dollar today, while the Micex Index of stocks fell 0.2 percent, bringing its decline this year to 8.9 percent. While Ukraine's hryvnia gained 0.1 percent, it's slid 29.4 percent in 2014.
Crimean Scenario
The referendums echo a similar vote that preceded Putin's seizure of Crimea in March. A month earlier, his ally in Kiev, President Viktor Yanukovych, was ousted in a popular uprising. Growing tension in eastern Ukraine reflects concern Russia may be planning another land grab.
NATO says that there are about 40,000 Russian troops near the border. There's no sign Putin is fulfilling a pledge to withdraw them, U.S. Defense Secretary Chuck Hagel said in a television interview broadcast yesterday.
Ukraine has deployed its army to reassert its authority in the eastern regions after pro-Russian groups seized government offices. Soldiers fired on a crowd in the town of Krasnoarmiysk in the Donetsk region yesterday, leaving at least one person dead, Ukrayinska Pravda reported on its website. The Interior Ministry denied troops had fired on civilians.
Serhiy Pashynskyi, a top aide to Turchynov, said earlier yesterday the army had killed "many" rebels holding buildings and roads in eastern cities. There were also bloody clashes in Slovyansk and in the port city of Mariupol last week.
Putin Stance
Putin last week recommended against holding the referendums. Even so, it was understandable they went ahead, considering the acts of war being carried out against residents, his spokesman Dmitry Peskov said in an interview published by Moscow-based Kommersant.
The U.S. and the EU should seek to halt violence in Ukraine, rather than scolding Russia over the acts of pro-Russian separatists, he told the newspaper.
The referendums underscore a divide between a minority community identifying with Russian heritage and other Ukrainians who want the country to stay whole and strengthen ties with the EU.
The organizers didn't have access to the regions' official electoral registers or other voting infrastructure. Pashynskyi said no voting had taken place in most areas of the two provinces. He called the referendum "a poor attempt by terrorists, criminals and killers to hide their actions."
'Without Us'
In Donetsk, Peter Bobrovsky, an unemployed man, said he was voting for autonomy because "the authorities in Kiev hate us."
"I want to live in Russia, speak Russian," he said. "Now we will be free and we will join Russia. And Ukraine can go to the West, but without us."
Also in Donetsk, Ruslan Khalikov, a 27-year-old graduate student, said he wouldn't take part because the vote is "stupid" and illegitimate.
"Somebody printed some papers with some questions -- so what?" he said. "I can hold the same referendum in my yard with my friends."
A study by the Pew Research Center found that 70 percent of respondents in eastern Ukraine, where Russian is widely spoken, and 93 percent in the west, wanted the country to remain unified within current borders.
Ukrainian Prime Minister Arseniy Yatsenyuk has announced plans for national reconciliation talks to start May 14, though it's unclear who'll take part. Hollande and German Chancellor Angela Merkel have urged armed groups to surrender their weapons to the Organization for Security and Cooperation in Europe, which may play a role in the mediation.
Before it's here, it's on the Bloomberg Terminal.
LEARN MORE