Samsung Shares Steady After Chairman's Heart Attack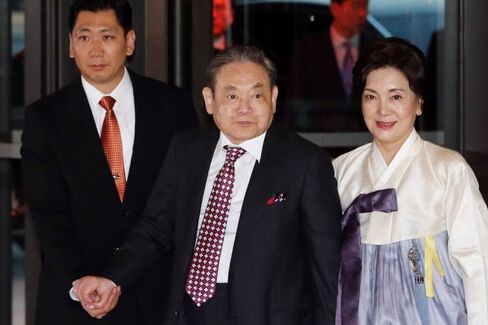 Samsung Electronics Chairman Lee Kun Hee is in stable condition after surgery following a heart attack. — Bloomberg News
With $327 billion in annual sales, Samsung dwarfs Apple ($170.9 billion in revenue) and Google ($59.8 billion) combined. South Korea's biggest company makes smartphones, TVs, semiconductors, batteries, and displays, but it's also a player in everything from cargo ships and finance to duty-free shopping and theme parks. All together, Samsung accounts for about 23 percent of South Korea's economy.
So when Samsung's septuagenarian chairman has to be resuscitated after suffering a heart attack, you would think investors would be jittery. But today, after Samsung revealed its chairman was in stable condition at, naturally, the Samsung Medical Center, the markets were calm. Shares of both Samsung Electronics and Samsung Life Insurance ended the day 4 percent higher, and Samsung C&T, which imports electronics, metals, and chips, rose 2.7 percent, to a 52-week high. The optimism wasn't across the board: Lithium battery maker Samsung SDI dropped 2.3 percent, and shipbuilder Samsung Heavy Industries fell 1.85 percent.
The surprisingly upbeat reaction suggests that not only are investors not worried; they're actually confident Lee's illness will accelerate changes at Samsung. Greg Roh, an analyst with HMC Investment, told my Bloomberg colleague Sharon Cho that a restructuring of the sprawling Samsung Group may come faster. (Last month, for instance, unlisted companies Samsung General Chemicals and Samsung Petrochemicals revealed plans to merge.) Shareholders in Samsung Electronics also are hopeful the company will be more likely to respond to pressure to return more money to shareholders through dividends and share buybacks, KTB Asset Management's Lee Jin Woo told Bloomberg.
Lee, 72, was treated for lung cancer in 2000. His latest health issue comes at a particularly sensitive time for Samsung Electronics. The company continues to fight with Apple over allegations of copying, while at the same time it faces a growing challenge in China from such local brands as Lenovo and Xiaomi. The mobile division's sales fell 2.5 percent last quarter, and Samsung's smartphone market share fell a percentage point, to 31 percent, the first decline since 2009.
With Lee's hospitalization, Samsung may now have to go through a transition similar to the one Apple experienced during the long illness of Steve Jobs. If Lee does have to take a break from an active role at Samsung, the company should be able to cope in the short term, according to JI Asia analyst Steve Myers. "I wouldn't think Chairman Lee would be deeply involved in day-to-day operations," the Tokyo-based analyst told Bloomberg News. "Samsung is of a size and complexity, and I would think they have a bureaucracy in place, so they can handle unexpected events."
The elder Lee years ago started planning for a transition to the next generation of the family years ago. His son, Lee Jae Yong, became vice chairman of Samsung Electronics in 2012. His daughter, Lee Boo Jin, is president of Hotel Shilla, which operates duty-free shops, bakeries, restaurants, catering, and laundry services as well as hotels. Hotel Shilla is the world's eighth-largest duty-free operator, with sales of 1.9 trillion won ($1.85 billion) in 2012. The stock price has jumped 32 percent this year alone and has more than tripled since the start of 2011. (In the same period, Samsung Electronics stock has increased only 46 percent.) The rise of Hotel Shilla is driven in part by confidence in the company's expansion plans, which include a new duty-free shop in Singapore's Changi Airport.
Meanwhile, Samsung keeps pushing into new businesses. The group is going to invest at least $2 billion in biotech, Samsung Bioepis Chief Executive Christopher Hansung Ko told Bloomberg News. And as Ko made clear, Chairman Lee's influence remains powerful. "We are a Samsung company," he said, explaining Samsung Bioepis long-term goal to become a leading pharma company. "Our mandate is to become No. 1 in everything we enter into."
Before it's here, it's on the Bloomberg Terminal.
LEARN MORE