Frat Boys Just Knocked Spider-Man Down at the Box Office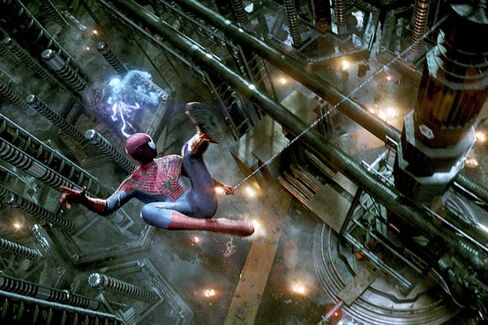 Andrew Garfield's Spider-Man seems to tire easily. James Franco's little brother and Zac Efron just beat him up in the box office.
Neighbors, a frat-house comedy from Universal Studios, hauled in a far-better-than-expected $51 million at U.S. box offices over the weekend, one of the biggest takes ever for an R-rated comedy. The Amazing Spider-Man 2 came away with only $37.2 million, some 59 percent less than it landed in its debut a week ago. And things won't get any easier for Spidey. Next week, Godzilla slouches toward theaters to be born again, and the week after that the latest X-Men iteration hits screens.
Make no mistake, the Spider-Man film is a huge success despite the unexpected muscles of frat boys. Accounting for international theaters, the second film in Sony's latest iteration of the superhero has already hauled in $550 million in ticket revenue—almost triple its production budget.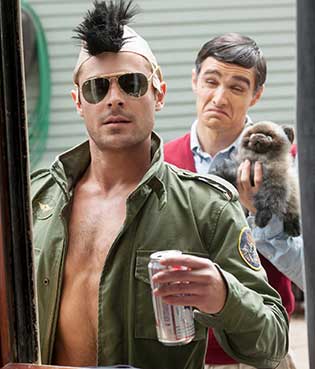 Still, the week-two hangover underscores the increasing importance of timing as Hollywood studios decide when to pitch their massive, tent-pole productions. Selling tickets to superfans isn't much of a problem. The fanboys and girls were going to see Spider-Man in theaters on its opening weekend even if it featured a musical sequence by Justin Bieber.
The second weekend, however, shouldn't be discounted. That's when a film collects revenue from more casual fans who don't want to fight the frenzied crowds of the film's first few days. If those ticket buyers have another viable option, they might skip the superhero film entirely. They can stream it a few months later or just wait 10 years—that's about how often Hollywood is putting out a fresh Spider-Man sequel.
Sony's schedulers probably didn't think a frat-house comedy would steal so much of its man-in-tights magic; maybe it's been a while since they watched Animal House. Analysts on average had expected Neighbors to sell one-third fewer tickets than it did this past weekend.
What's more, Sony couldn't be too picky, since the calendar is pretty full these days. The most studios can hope for is that a film to not go up against similar fare in its first couple of weeks, but even that is no guarantee of success. The other big blockbuster of 2014, the Captain America sequel, saw its box office power wane 57 percent between its opening weekend and the following. And it wasn't fighting a somewhat raunchy R-rated offering; it was up against Rio 2.
Sony, meanwhile, has two more Spider-Man sequels in the works. As the franchise wears ever thinner, timing is paramount. A film such as Neighbors might be a savvy hedge: With a budget of about $18 million to make, Universal probably didn't care when it premiered.
Before it's here, it's on the Bloomberg Terminal.
LEARN MORE