Dolphins Suspend Safety for Tweets After Sam Is Picked in Draft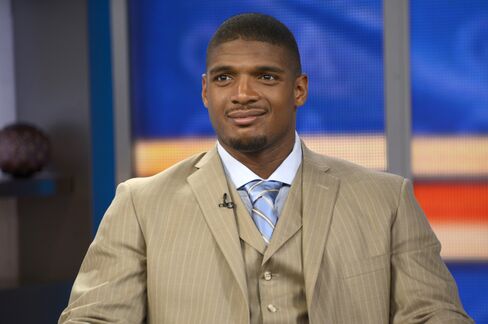 May 12 (Bloomberg) -- Miami Dolphins safety Don Jones was fined and suspended by the franchise for comments on social media about Michael Sam, who two days ago became the first openly gay player selected in the National Football League draft.
Sam, who was the Southeastern Conference's Co-Defensive Player of the Year at the University of Missouri last season, was taken by the St. Louis Rams in the seventh round, the 249th of 256 players drafted. Sam, who revealed in February that he's gay, making public what he told teammates before last season, was shown on ESPN kissing his boyfriend after being drafted.
Jones, in his second NFL season, wrote "OMG" and "horrible" on his Twitter page after Sam was drafted, then later deleted those tweets. The Dolphins said they fined Jones an undisclosed amount and excused him from all team activities until he completes educational training for his comments.
Jones's suspension follows an NFL investigation last season that found Jonathan Martin was harassed by three fellow Miami offensive linemen. The bullying case, which involved racial and homophobic taunting, led to Martin's departure from the team and the implementation of new workplace conduct rules.
"These comments are not consistent with the values and standards of our program," Dolphins coach Joe Philbin said in a news release. "We will continue to emphasize and educate our players that these statements will not be tolerated."
The 6-foot-2, 261-pound Sam, who totaled 21 sacks in 52 college games at Missouri, will be seeking to become the first openly gay player to appear in a game in the most-watched U.S. sports league.
Jones apologized to Sam for his comments in the statement.
"I regret that these tweets took away from his draft moment," said Jones, who was a member of the Dolphins' special teams unit last season. "I remember last year when I was drafted in the seventh round and all of the emotions and happiness I felt when I received the call that gave me an opportunity to play for an NFL team and I wish him all the best in his NFL career."
To contact the reporter on this story: Erik Matuszewski in New York at matuszewski@bloomberg.net
To contact the editors responsible for this story: Michael Sillup at msillup@bloomberg.net Dex McLuskey, Jay Beberman