Cemex Confronts CEO Succession After Zambrano Dies at 70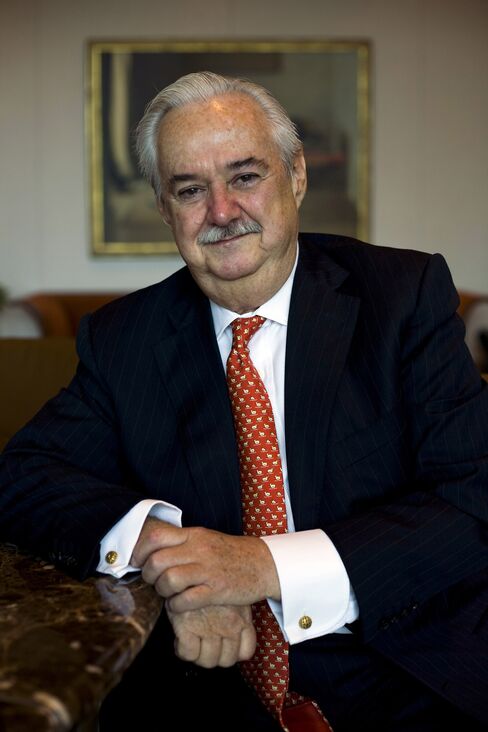 Lorenzo Zambrano's death at age 70 confronts Cemex SAB's board with an unfamiliar challenge: picking a new chief executive officer.
Directors will choose a replacement for the man who had run the company since 1985 and became one of Mexico's best-known CEOs. Before his death yesterday, Zambrano led Cemex on a $29 billion buying spree to build the biggest cement maker in the Americas.
Cemex's board will meet in the coming days, the company said yesterday, with no publicly anointed successor. The next CEO will follow a man who transformed Monterrey, Mexico-based Cemex into a multinational corporation and then saw the company flirt with default after buying Rinker Group Ltd. in 2007 for $14.2 billion just as the U.S. housing market was collapsing.
"The most important thing for me is that over the years Cemex dared to dream big," InSight Securities Inc. CEO Carlos Legaspy, who oversees about $350 million in emerging-market debt including Cemex bonds, said by telephone from Mexico City. "They may not have made the best business decisions in terms of timing, but they've done right to their shareholders and right to their creditors and I think that's an example and I think it's a legacy and a tribute to Lorenzo Zambrano."
Zambrano was in Madrid for a "routine" company meeting and died of heart failure, said Francisco Lebrija, a Cemex spokesman. The company has yet to schedule a board meeting to discuss the next CEO and a Mass for Zambrano will be held tomorrow in Monterrey, Lebrija said.
Cemex Management
Senior management at the 108-year-old cement maker founded by Zambrano's grandfather includes Chief Financial Officer Fernando Gonzalez and six presidents for regions such as the U.S., Mexico and Northern Europe, according to data compiled by Bloomberg. Francisco Garza is an adviser to the CEO on institutional relations. The Cemex board includes three relatives of Zambrano, who was not married.
While Cemex probably has a succession plan, "there is likely to be a certain amount of volatility" in the shares in the coming days due to Zambrano's death, according to Fernando Bolanos, a Monex Casa de Bolsa analyst who has a hold recommendation on the stock.
Cemex rose 0.5 percent to 16.59 pesos at the close in Mexico City. Bolstered by a global building rebound, Cemex's year-to-date gain of 12 percent is the fifth-biggest advance on Mexico's benchmark IPC index of 35 stocks. The gauge itself has fallen 1.1 percent this year.
First-quarter sales rose 8.2 percent to $3.59 billion as cement volumes rose in all Cemex's regional markets. That still wasn't enough to snap a string of consecutive quarterly losses that now stands at 18 following the global economic slump and U.S. housing bust.
'Extraordinary Businessman'
Zambrano, who became Cemex's chairman in 1995, was the longest-tenured CEO at a major Mexican industrial company and one of the country's most prominent business leaders. Tributes immediately began pouring in from political leaders including President Enrique Pena Nieto as well as investors and analysts.
"Mexico has lost an extraordinary businessman and a great Mexican," Finance Minister Luis Videgaray said in a message posted on his Twitter account.
Zambrano served as a director at many companies, and was on boards including that of International Business Machines Corp. at the time of his death. Past board memberships include Grupo Televisa SAB, Alfa SAB, Vitro SAB, Fomento Economico Mexicano SAB and Citigroup Inc.'s Banamex unit, Cemex said in a statement.
Pizzas, Ferraris
Zambrano was born in Monterrey on March 27, 1944, according to Marquis Who's Who. In 1968 he earned a master of business administration degree from Stanford University in California, and joined Cemex that year. His experience covered all aspects of the business, and he became director of operations in 1981, according to Cemex.
Known as a technology enthusiast, he had long been able to monitor production details on dozens of Cemex plants around the world -- down to the temperature of a cement kiln -- via laptop. He studied pizza chains and emergency call centers to learn how to make delivery times for ready-mix concrete more reliable.
Zambrano was also a top collector of Ferrari cars, with antiques from the 1950s and 1960s, and would race them at Pebble Beach, California, according to a Stanford business school profile.
With his family connection to Cemex's founder, Zambrano was determined to leave a lasting legacy following his leadership of the company.
"The true measure of a business leader," he said in the Stanford article, "is if the company lasts through time."
(Earlier versions of this story were corrected because of an incorrect description of a fund manager's location.)
Before it's here, it's on the Bloomberg Terminal.
LEARN MORE