Barclays Ex-CEO Diamond Said to Face Questioning Over Qatar Deal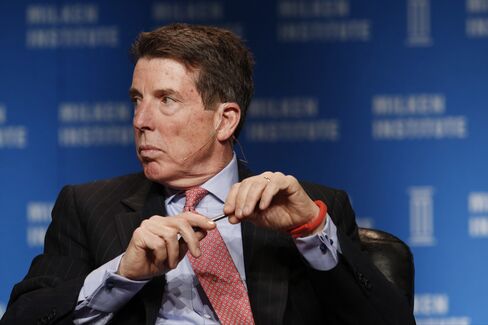 U.K. prosecutors will question Robert Diamond, former chief executive officer of Barclays Plc, in a probe into fees paid to Qatar's sovereign-wealth fund as the bank sought to raise money to avoid a government bailout, according to a person familiar with the matter.
Diamond is one of 12 individuals the U.K. Serious Fraud Office asked to interview under caution, according to a person with knowledge of the request who asked not to be identified because the matter is private. Anything said in an interview under caution can be used as evidence in a criminal trial.
"Mr. Diamond will continue to assist wherever he can on anything related to Barclays," a representative for Diamond said in an e-mailed statement. "He is very proud of his tenure at the bank."
The investigation centers on 322 million pounds ($544 million) the London-based bank paid the Qatar Investment Authority as it was raising 7 billion pounds in 2008 from investors, including the Qataris, during the financial crisis. Diamond was head of Barclays's investment bank at the time of the fundraising.
Barclays former Chief Financial Officer Chris Lucas and other executives who have left the bank, including Roger Jenkins and John Varley, have also been under investigation as part of the probe into the Qatar bailout. The SFO has been interviewing a number of witnesses in the case in recent months, according to another person close to the probe.
Nilima Fox, a spokeswoman for the SFO, and Chris Semple, a spokesman for Barclays, declined to comment. Lawyers for Lucas, Jenkins and Varley either declined to comment or did not immediately respond to requests for comment.
The Financial Times reported the interview requests earlier.
Barclays is also contesting findings by the Financial Conduct Authority, Britain's markets regulator, which is considering fining the bank 50 million pounds over the matter. U.S. authorities are also looking into the payments.