Widodo Gets Indonesia Islamic Party Support After Poll Win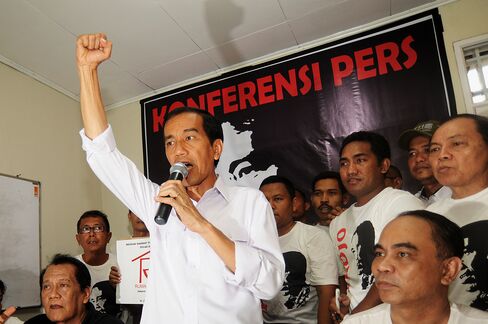 Jakarta Governor Joko Widodo won the support of the National Awakening Party, boosting his presidency bid by forming a coalition that captured more than a third of the vote in last month's parliamentary election.
Widodo's Indonesian Democratic Party of Struggle, or PDI-P, won 18.95 percent of the April 9 parliamentary vote, the General Elections Commission said May 9. PDI-P aims for a maximum four-party coalition, Secretary General Tjahjo Kumolo said May 10. The party sought backing from National Awakening, or PKB, following a deal with the National Democratic Party.
The three parties won a combined 34.71 percent of the ballot, passing the 25 percent threshold needed to nominate a presidential candidate. A broad coalition could limit the ability of Widodo, known as Jokowi, to carry out policy changes in Southeast Asia's largest economy if he wins the presidential election in July.
"There won't be a PKB or PDI-P minister, but the minister of the elected president will be the result of discussions and fit-and-proper-test by coalition members," PKB Chairman Muhaimin Iskandar said in a statement yesterday. PKB chose Widodo as its presidential candidate "because he's offering a model of leadership that is egalitarian."
PKB's base is Nahdlatul Ulama, the country's biggest Muslim organization with 40 million supporters. Indonesia is home to the world's largest Islamic population, and Widodo, 52, met clerics a week ago in areas of Java to discuss possibilities for cooperation.
Smaller Parties
Golkar, the party headed by tycoon Aburizal Bakrie, won the second-biggest share of the parliamentary vote at 14.75 percent, while the Gerindra party led by Prabowo Subianto, a former general, was third with 11.81 percent, the elections commission said minutes before a midnight deadline to announce results. The Democratic Party of President Susilo Bambang Yudhoyono, who cannot stand for a third term, received 10.19 percent, down from about 21 percent in 2009.
Islamic and smaller parties fared better than surveys ahead of the election suggested. PKB won 9.04 percent and the National Democratic Party 6.72 percent. The number of seats each party has won in the 560-member parliament will probably be announced later this month.
The Jakarta Composite index rose 0.5 percent to 4,921.83 at the midday break, returning to pre-election levels. The market fell 3.2 percent on April 10 when early counts showed PDI-P didn't win enough votes to nominate a president by itself.
Policy Platform
Widodo has yet to unveil his running mate. In recent weeks he called for a boost to agricultural output and a gradual cut in fuel subsidies. That could free funds for the roads, ports and power networks needed to spur investment and create jobs in the world's fourth-most-populous nation, with economic growth the weakest since 2009.
Indonesia should cut its "deep dependence" on foreign investment and imported food, Widodo said in a May 10 opinion article published in Kompas newspaper. He called for a "mental revolution," saying institutional reforms aren't enough as they don't address the way people think.
Widodo must win more than 50 percent of the vote in the presidential election scheduled for July 9, or face a run-off in September.
He was the preferred president for 51.6 percent of respondents in an April 20-24 poll by survey company Saiful Mujani Research and Consulting, down from 62 percent in a December poll. Prabowo was second with 35.7 percent, up from 23 percent in December, the survey showed.
Prabowo, Bakrie
Prabowo and Golkar's Bakrie met on April 29 to discuss the possibility of forming a coalition. They share similar political views and both are nationalists, Bakrie later told reporters. The two agreed to hold more talks, said Prabowo.
The vote difference between the PDI-P and Prabowo's party isn't that big, making it difficult for smaller parties to decide where to align themselves as both have a chance to win the presidency, said Dodi Ambardi, a political analyst at Gadjah Mada University in Yogyakarta.
"Jokowi wants a slim coalition and that means fewer incentives" to attract other parties,'' Ambardi said by phone on May 10. "Prabowo is more willing to give promises such as vice presidential position and ministerial seats, so he's not worried too much about incentives."
'Biggest Competitor'
A partnership between Widodo's two main opponents would give them 26.6 percent of the vote, based on the official parliamentary results. Gerindra is 99 percent certain of a coalition with the National Mandate Party, or PAN, which gained 7.59 percent of the vote, Fadli Zon, Gerindra's deputy chairman, said May 9. The Democratic Party, the Prosperous Justice Party and the United Development Party have not declared any allegiances.
"The biggest competitor for Jokowi right now is only Prabowo, as we haven't seen people so far giving support for Aburizal Bakrie," Nico Harjanto, chairman of Populi Center, a Jakarta-based public opinion and policy research organization, said by phone on May 9. "People are waiting for what he wants to focus on, as so many are doubting his ability to govern Indonesia. People and the market are waiting to see who will be his ministers."
Before it's here, it's on the Bloomberg Terminal.
LEARN MORE