S&P 500, Dow Climb to Records on Tech Rally; Copper Gains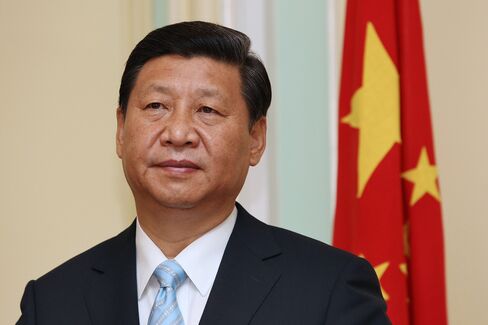 U.S. stocks climbed, pushing benchmark indexes to records, as technology and small-cap shares rebounded after a selloff and deals activity boosted confidence in the economy. Copper rose with emerging markets on speculation China will support markets.
The Standard & Poor's 500 Index increased 1 percent to close at a record 1,896.65, and the Dow Jones Industrial Average advanced 0.7 percent to 16,695.47. The Nasdaq Composite Index jumped the most since January as technology shares rallied, and the Russell 2000 Index of small companies surged 2.4 percent. The MSCI All-Country World Index added 0.7 percent to the highest level since 2007. The MSCI Emerging Markets Index added 0.9 percent and shares in Shanghai jumped the most in seven weeks. Copper climbed 2.2 percent. The yield on 10-year Treasuries increased 3 basis points to 2.65 percent.
Salesforce.com Inc. and TripAdvisor Inc. jumped at least 5.8 percent as all 41 members in the Dow Jones Internet Composite Index rose. Russia indicated it "respects" the results of two disputed referendums in eastern Ukraine that separatists said backed autonomy as the European Union imposed sanctions on companies in Crimea for the first time. Chinese President Xi Jinping said the economy needs to adapt to a "new normal" on growth, according to a Xinhua News Agency report on the government's website May 10.
"The global economy is accelerating, central banks are dovish, companies are making acquisitions and it's hard to see what could keep the market down from here," said Allan von Mehren, chief analyst at Danske Bank A/S in Copenhagen. "It's also comforting to know that policy makers in China will support the economy and they still have a lot of room for maneuver."
Technology Rebound
The S&P 500 has rallied 4.5 percent from an April 11 low, recovering all of its losses after a selloff in technology and small-cap stocks that overshadowed optimism about the strength of the economy.
The Nasdaq Composite jumped 1.8 percent. While the gauge has recovered 3.6 percent from its April low, it remains 4.9 percent below a 13-year high in March. The Dow Jones Internet gauge surged 3.2 percent today, after last week's 3.6 percent retreat, and the Russell 2000 rebounded the most in two months. Netflix Inc., which fell as much as 31 percent from its record two months ago, rallied 5.1 percent.
Some of the technology shares hardest hit last week rebounded today. Twitter Inc. added 5.9 percent after falling 18 percent last week, the most since its initial public offering in November. Facebook Inc. rose 4.5 percent following a 5.3 percent drop last week. Yahoo! Inc. gained 2 percent after slumping 8.4 percent last week, the most since September 2011.
Bounce Back
"We're seeing a little bit of a bounce back from some of the stocks that got hit the most over the last couple weeks," Terry Morris, a senior equity manager who helps oversee about $2.8 billion at Wyomissing, Pennsylvania-based National Penn Investors Trust Co., said in a phone interview. "We've had a big divergence between large cap versus small cap, and growth versus value. If you look at the Russell 2000 and some of the technology or Internet-related stocks, they've really taken a pounding."
The Chicago Board Options Exchange Volatility Index, a gauge for U.S. stock volatility known as the VIX, fell 5.3 percent today to 12.23, the lowest level since January. The gauge has fallen 43 percent since reaching a two-year high on Feb. 3.
Merger Action
Equities also rose amid merger activity. Pinnacle Foods Inc. surged 13 percent after Hillshire Brands Co. agreed to buy it for about $6.6 billion including debt. RadioShack Corp. jumped 4.5 percent after Standard General LP disclosed a higher stake in the retailer.
The Stoxx 600 climbed 0.7 percent to the highest level since 2008, with all but one of the 19 industry groups on the advancing. Sky Deutschland AG rallied 9.9 percent after British Sky Broadcasting Group Plc said it's working on a deal that would see it acquire control of the company. BSkyB fell 2.4 percent.
European Central Bank Vice President Vitor Constancio said today it's too early to speculate about action next month after policy makers suggested last week they may take steps to spur price growth.
Treasury 10-year notes fell before economic reports this week economists said will show retail sales rose and housing starts increased at the fastest pace this year, damping demand for fixed-income securities. Federal Reserve Chair Janet Yellen is due to speak May 15 after using comments last week to temper speculation an improving economy will accelerate an increase in interest rates.
Ukraine Crisis
The ruble rose 0.5 percent to 35.05 per dollar while Russia's Micex Index climbed 0.3 percent amid referendums in eastern Ukraine. Ukraine's hryvnia lost 1.2 percent.
Russia praised the high turnout in yesterday's ballots, according to a statement e-mailed by President Vladimir Putin's press service. The U.S. and the EU deem the votes illegal and the government in Kiev called them a "farce."
At a meeting today in Brussels, EU foreign ministers added two companies and 13 people to its sanctions list. The names will be released later.
The Shanghai Composite Index rose 2.1 percent, the most since March 21. The China's government will relax foreign-investment limits in listed companies, increase quotas for capital flow, and develop commodities trading tools, according to a May 9 statement that didn't include details.
India's S&P BSE Sensex Index climbed 2.4 percent to a record. Today is the last of nine rounds of voting in India's election, with exit polls released tonight and results on May 16. Most opinion polls predict Narendra Modi's Bharatiya Janata Party will win the largest number of seats while falling short of a majority.
Copper, Nickel
Copper futures rose 2.2 percent to $3.1495 a pound, the highest since March 7. Nickel advanced 5.1 percent to the highest since February 2012. China is the biggest buyer of industrial metals.
Gold increased for the first time in five sessions as the crisis over Ukraine spurred demand for the metal as a haven. Futures climbed 0.6 percent to $1,295.80 an ounce. Silver advanced 2.2 percent.
West Texas Intermediate oil rose 0.6 percent to $100.59 a barrel, gaining for the first time in three days on speculation that inventories decreased at Cushing, Oklahoma. Stockpiles at the WTI delivery point dropped for a 14th time in 15 weeks, four analysts surveyed by Bloomberg said before an Energy Information Administration report on May 14.
Mild Weather
Natural-gas futures slipped 2.1 percent to a one-month low on forecasts for mild weather that would curtail demand for the power-plant fuel, allowing supplies to rebuild at a faster pace.
The euro was little changed at $1.3758 after falling to $1.3745 on May 9, the lowest since April 8. It weakened 0.8 percent versus the dollar last week, the steepest decline since the period ended March 21. The shared currency added 0.3 percent to 140.52 yen. The dollar gained 0.3 percent to 102.14 yen.
A drop in two-year U.K. gilts pushed up yields as much as four basis points to 0.80 percent, the highest since July 2011. The Confederation of British Industry increased its forecast for U.K. growth to 3 percent, from 2.6 percent previously, adding to predictions of a strengthening economy that may lead to higher central bank rates.