Lockhart Expects Fed to Use Reverse Repos During Stimulus Exit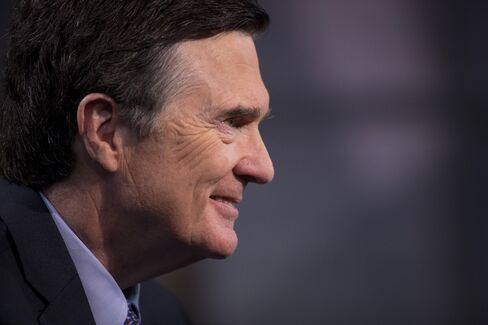 Federal Reserve Bank of Atlanta President Dennis Lockhart said he expects the central bank will use a reverse-repurchase program when it eventually begins to tighten monetary policy.
"I am confident reverse repos will be among our tool bag and will therefore may very well have a role in how we try to influence short-term interest rates," Lockhart said to reporters yesterday after a speech in Dubai. He doesn't vote on policy this year.
The Fed since September has been testing an overnight fixed-rate reverse repo program in preparation for any future withdrawal of stimulus. In a reverse repo, the central bank lends securities for a set period, temporarily draining cash from the banking system. At maturity, the securities are returned to the Fed, and the cash to its counterparties.
Lockhart predicted the U.S. central bank will start raising interest rates in the second half of 2015 and end a bond-buying program by the end of this year. The Fed is purchasing $45 billion in bonds per month to hold down long-term interest rates and fuel economic growth.
The world's biggest economy will expand about 3 percent this year, which will probably prompt the Fed to stop its bond purchases in October or December, Lockhart said in a speech in Dubai. Policy makers last month trimmed monthly bond buying by $10 billion for the fourth consecutive meeting. The purchases have expanded the Fed's balance sheet to $4.3 trillion.
'Gradual Process'
"With that improved growth picture, some of our resource slack, particularly both unemployment and underemployment, will be absorbed," Lockhart said. "Conditions will develop by the middle of next year, at which time we can conceivably begin a gradual process of raising interest rates."
The Fed responded to the global financial crisis with unprecedented stimulus, reducing the Fed's target interest rate to zero in December of 2008 and beginning a program of asset purchases known as quantitative easing.
Fed Chair Janet Yellen said May 7 that the central bank will probably end bond buying in the fall if the labor market continues to improve. She said on March 19 that interest rates may rise about six months after asset purchases end.
U.S. payrolls rose last month by 288,000 in the biggest gain in two years, and the 6.3 percent jobless rate was the lowest since September 2008, according to a May 2 Labor Department report.
The Federal Open Market Committee on April 30 announced a reduction in monthly bond buying to $45 billion, down from $85 billion when the Fed started trimming purchases in December. Dallas Fed President Richard Fisher, who votes this year on the FOMC, said on May 9 he favors a steady tapering in purchases by the Fed, with a $15 billion cut to zero in October.
' High
Degree'
Yellen said on May 7 that "a high degree of monetary accommodation remains warranted" as inflation and employment fall short of the Fed's congressionally mandated goals.
Lockhart, speaking at the Dubai International Financial Center, said the inflation rate is "beginning to move" in the direction of the central bank's target of 2 percent. He also said the economy will probably expand at least 3 percent in the second quarter, compared with a 0.1 percent growth rate in the first three months.
"We attribute that weakness in the first quarter substantially to weather effects," he said.
The U.S. economy will expand at a 3.5 percent annualized rate this quarter, 3 percent in the third quarter and 3.1 percent in the final quarter of this year, according to the median of economist estimates compiled by Bloomberg.
A former Georgetown University professor, Lockhart has led the Atlanta Fed since 2007. His district includes Alabama, Florida, Georgia, and portions of Louisiana, Mississippi, and Tennessee.
Before it's here, it's on the Bloomberg Terminal.
LEARN MORE