Dougan's Reign Tested as Credit Suisse Tax Charge Looms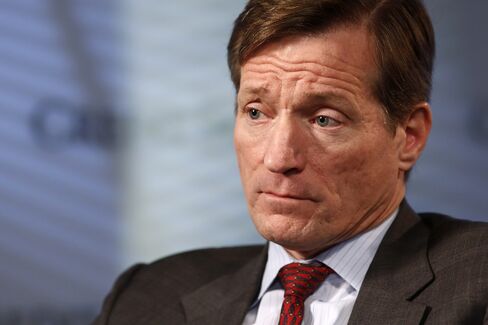 Brady Dougan got a round of applause when he greeted more than 1,500 Credit Suisse Group AG investors in German and French at a stadium in Zurich last week.
The harmony didn't last.
"Fish stinks from the head down, more precisely, that's the head of CEO Brady Dougan," Ernst Schmid, a shareholder wearing a traditional Swiss edelweiss shirt, said at the bank's annual meeting, calling for the chief executive officer's resignation over an investigation into whether it helped Americans evade taxes. "Management always tries to sweep things under the carpet, but it's no longer possible to hide."
U.S. prosecutors are pressing for a guilty plea from the parent company of Switzerland's second-largest bank, a person familiar with the negotiations said last week. The case could cost the lender more than $1.6 billion, according to a second person, who asked not to be identified because talks are confidential. That's more than twice what Credit Suisse said it set aside for legal costs.
Dougan, an Illinois railway dispatcher's son known for his mild manner and intense work hours, is seeking to avoid being tarred as the CEO of the first global bank criminally charged since the financial crisis. He's racing to salvage Credit Suisse's reputation, restore confidence among regulators and end an investigation that began at least three years ago.
Credibility 'Dead'
"The probe has dented his support, particularly in the U.S.," said Tom Kirchmaier, a fellow in the financial-markets group at the London School of Economics who specializes in the governance of banks. "Does he have the authority and trust to pull it off? Have bridges been burnt? It all hinges on his relationship with regulators and authorities."
Dougan is starting to lose support in Switzerland, with the Swiss Social Democrats, the second-biggest party in parliament, yesterday calling for his resignation along with Chairman Urs Rohner.
"The credibility of Credit Suisse managers is dead," Christian Levrat, head of the Social Democrats, told the newspaper NZZ am Sonntag. "They are a burden for the bank. I was surprised that they did not tender their resignation on Friday at the AGM of Credit Suisse. That would have been responsible, in the interests of the bank and Switzerland."
Rohner defended Dougan at the meeting, calling the allegations against him "unjustified," pointing out that the misconduct started decades earlier and saying the bank is pushing to resolve the case.
'Legacy' Matters
"Under Brady Dougan's leadership, we continue to work hard to resolve our legacy matters and put them behind us," Zurich-based Credit Suisse said in an e-mailed statement. "In this matter, the bank has acknowledged and accepts responsibility for misconduct that occurred."
Marc Dosch, a company spokesman, declined to comment on Levrat's remarks.
Dougan, 54, the first American to serve as sole CEO of the Swiss firm, is one of the few global bank heads to have endured the financial crisis and the scandals that followed. Three executives who have worked with him during his 24 years at the company credited his survival to a personality built on diligence and simplicity.
If some bankers try to project their normalcy by calling themselves meat-and-potatoes guys, Dougan's style is even plainer. When he met a guest for lunch last year at Zurich's Hotel Savoy Baur en Ville, across a plaza from Credit Suisse's headquarters, Dougan ordered steamed vegetables. He explained that he prefers his food simple and healthy, the person said.
'Serious Guy'
When asked about his extravagances by Bloomberg News in 2007, after succeeding Oswald Gruebel as CEO, he listed his focus on work and a fondness for exercise. He was described in news stories at the time as a quiet man who jogs, prefers diet sodas and cut costs by discouraging color copying.
Dougan projects "an image of himself as a serious guy in a world full of mavericks," said Luis Rinaldini, a vice chairman at Credit Suisse First Boston before founding Groton Partners LLC in 2003. "He correctly thought that the world was moving in his direction, and that would be an advantage, and that people who behaved with integrity and seriousness would be rewarded, over and above people who behaved with bravado."
While U.S. prosecutors have won guilty pleas from subsidiaries of large banks, they haven't gone after holding companies since the 2008 financial crisis. A charge at that level could alarm customers, stop some from engaging with the firm or jeopardize its ability to do business in the U.S., lawyers have said.
The conduct in the Credit Suisse case, including the behavior of the bank during the probe, is what's driving the push for a criminal charge, said one of the people.
New Unit
U.S. authorities are unwilling to charge a newly formed unit created by the Swiss bank to house "U.S. offshore business," and have been unreceptive to proposals that Credit Suisse's parent avoid criminal charges, the New York Times reported, citing people briefed on the talks.
Testifying to the U.S. Senate Permanent Subcommittee on Investigations in February, Dougan deflected blame onto a few Swiss-based bankers who "skirted the bank's controls" and apologized for the wrongdoing. Seven employees were indicted in 2011 on a charge of conspiring to help U.S. clients hide $4 billion in assets.
"Our investigation identified evidence of violations of bank policy and U.S. law by a small number of bankers," Dougan said. He added that the internal review found little evidence of improper conduct elsewhere at Credit Suisse.
'Hardly Credible'
Dougan's comments were "hardly credible," the Swiss association of bank employees said in a statement the next day, demanding an apology. "Focus on tax evasion has long been the banks' business model and was well-known," the group said.
At the hearing, senators criticized Dougan and the bank for not doing enough to turn over information about U.S. clients. They said the Justice Department has secured the names of only 238 of 22,000 Americans with Credit Suisse accounts.
Dougan may have underestimated the risk of prosecution. The U.S. has had its sights on Swiss banks since it intensified its probe of the largest, UBS AG, in 2008. That firm is the world's biggest manager of money for the wealthy while Credit Suisse is fifth, according to a study by Scorpio Partnership.
UBS, based in Zurich, entered into a deferred-prosecution agreement in February 2009 and paid a $780 million fine, admitting it fostered tax evasion. The bank gave the U.S. Internal Revenue Service data on more than 250 accounts and later turned over information on 4,450 accounts. In October 2010, the U.S. dropped its criminal case.
Credibility Lost?
Credit Suisse "wanted to be very careful and not simply pay any amount," Peter Stenz, a fund manager at Zurich-based Swisscanto Asset Management AG, which owns about 160 million Swiss francs ($181 million) of its shares, said of the bank's strategy. "They tried to reach the best possible outcome, but management doesn't look so good at the moment."
Dominique Biedermann, CEO of Ethos Foundation, which advises more than 140 Swiss pension funds and charitable trusts holding about 3 percent of the bank's shares, expressed similar views in an interview after the May 9 shareholder meeting.
"We have more and more trouble understanding how he can retain his credibility," Biedermann said of Dougan.
CEO's Assurances
The Credit Suisse CEO said in July 2008 that the importance of the cross-border business with wealthy U.S. clients was "immaterial" for the bank, speaking days after a Senate hearing on tax evasion where UBS said its employees assisted clients in defrauding authorities and pledged to stop providing offshore banking services to Americans.
As recently as April 2011, Dougan said Credit Suisse globally has had "a really state-of-the-art compliant cross-border banking business."
Credit Suisse has said it's cooperating with the U.S. investigation to the extent allowed by Swiss laws and the government. A resolution has been delayed by Switzerland's efforts to broker a deal for other banks that may have undeclared American accounts.
"Swiss banks had to be shown that aiding people in other countries to commit crimes was not a sustainable business model," said Falko Fecht, a professor of financial economics at the Frankfurt School of Finance & Management. "The state was also complicit by turning a blind eye to give its banks a competitive advantage."
Senate Subcommittee
Last month, Credit Suisse set aside 425 million francs in provisions for the U.S. Department of Justice probe, in addition to 295 million francs for U.S. tax matters in 2011. It agreed to pay $196.5 million in February to settle a related investigation by the U.S. Securities and Exchange Commission.
That's already more than what UBS paid in 2009 as part of its settlement. UBS helped Americans hide $20 billion in assets from the IRS, according to the charge against the bank. The Senate investigations subcommittee estimated in February that Credit Suisse shielded about $10 billion. Dougan told the panel that month that the amount was closer to $7 billion.
If the fine were to reach $1.6 billion, "it would surprise the market, and I would be surprised if he would survive that," said Beat Wittmann, who spent more than a decade through 2007 on the board of Credit Suisse's wealth manager, Clariden Bank, and now heads Zurich-based TCMG Asset Management AG. "He didn't manage expectations in that direction."
Dougan's Pay
Dougan has overcome being contradicted before. For years he had said the bank was among the best capitalized, only to be dealt a blow by the Swiss National Bank, which told the lender in June 2012 it had to boost capital "substantially." A month later, the company set out to raise 15.3 billion francs.
Credit Suisse raised Dougan's pay by 26 percent for 2013 to 9.79 million Swiss francs, even as the bank missed targets. The firm reported a slump in first-quarter profit and a decline in income at the investment bank, falling short of earnings estimates for the third consecutive quarter.
After outperforming European bank stocks last year through October, Credit Suisse shares have trailed the Bloomberg Europe Banks and Financial Services Index. Since the end of that month, the lender has fallen more than 4 percent compared with a 2.9 percent gain in the index, which tracks 43 companies. The shares slid 0.3 percent in Zurich today, valuing Credit Suisse at 43.1 billion Swiss francs.
For some, the combination of sagging investment-bank returns and legal costs should prompt a management change.
"He didn't deliver value by focusing on the investment bank," said TCMG's Wittmann. "That's his responsibility 100 percent. He faces responsibility for the tax probe and choosing the wrong business strategy."
Dougan has compared his job to the 1996 film "Twister."
"In the movie they're chasing tornadoes in the U.S., and they basically try to get this apparatus so it actually goes up in the tornado," he said in a 2009 lecture in Switzerland. "It's a very difficult thing to do. When you get it right, though, it pays off hugely. When you get it wrong, it can also be pretty damaging."