BlueCrest Ratings Said Cut by Albourne on Internal Fund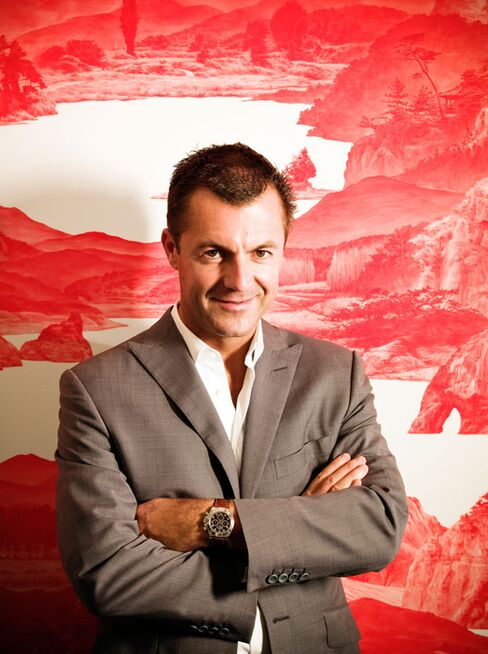 Michael Platt's BlueCrest Capital Management LLP had the ratings on its hedge funds reduced for a second time by a top investment adviser, who said the $30.6 billion firm still hasn't provided sufficient information about a proprietary fund run for the benefit of its partners.
Albourne Partners Ltd., which advises pension plans and endowments, told clients last month it hadn't received an adequate response after giving BlueCrest 10 weeks to answer queries about the fund, said a person with knowledge of the matter who asked to remain anonymous because the report is confidential. That pool, open only to senior BlueCrest partners, in February drew scrutiny from Albourne, which said it may pose conflicts of interest for the firm.
BlueCrest and Albourne have been in ongoing communication about the internal fund since the consulting company first raised concerns about it, said another person, who asked not to be identified because the discussions are private.
Albourne, one of the most influential gatekeepers to the billions of dollars overseen by endowments and retirement plans, lowered one element of its rating for BlueCrest's funds, the second such step since it found out about the internal pool. The move may rattle institutional investors, who have helped BlueCrest, co-founded by billionaire Platt, 46, more than double assets under management since the end of 2008, making it Europe's second-biggest closely-held hedge-fund firm.
"A revision like this could hurt if they're not currently generating profits that are in the top percentile of funds," said Erik Gordon, a business and law professor at the University of Michigan in Ann Arbor. "It should put investors on alert."
Albourne's Ratings
BlueCrest spokesman Ed Orlebar declined to comment. Officials for Albourne didn't respond to a phone call and e-mails seeking comment.
Albourne told clients in a February report that it learned BlueCrest, which is based in Guernsey, managed a $1.5 billion internal fund called BSMA Ltd., two people with knowledge of the report said at the time. The fund may lead to management's interests not being aligned with those of BlueCrest investors because senior partners' deferred compensation was tied to the performance of BSMA, according to the report.
Albourne, based in London, last month lowered its ranking of BlueCrest's funds to B!! from B!!! to reflect a lower level of confidence in the assigned grade, the person said. The funds were ranked B!!!! by the consulting firm before it discovered the internal fund, the person said.
Retaining Talent
Albourne ranks funds by assigning a letter from A to E to reflect the quality of functions ranging from investment processes to administrative operations such as confirming trades. A is the top grade. The firm also assigns exclamation marks numbering between 1 and 5 to reflect its confidence in the letter rating and how well the fund is known, Albourne said on its website. Five exclamation marks signal the highest conviction.
In a February 2012 presentation the firm prepared for the City of San Jose Retirement Services, Albourne said it considered 234 open funds worthy of investment consideration, out of more than 2,000 it had rated. The 234 funds had a rating of A or B and a conviction level of at least four exclamation marks, according to the presentation.
BlueCrest Chief Financial Officer Andrew Dodd told Bloomberg News in February that the partner fund has existed for years to help the firm retain talent. BlueCrest has procedures in place to protect against conflicts of interest and it adequately disclosed the fund to investors, Dodd said. While BlueCrest employees invest in BSMA, they have put more money in funds that clients invest in, he said. Dodd declined to comment on the internal fund's performance.
Proprietary Funds
BlueCrest said in an annual filing with the U.S. Securities and Exchange Commission that members of the firm may manage funds that only partners, employees or people connected with the firm may invest in. The firm, which didn't make any reference to BSMA in the March 31 filing, said in such cases, the internal fund may compete with clients for investments. BlueCrest used similar language in a prospectus for clients last year.
"Accordingly, these proprietary investment funds, vehicles or accounts may produce trading results that are substantially different from those of our clients," BlueCrest said in the filing. "To the extent that our clients trade in similar markets and investments at or about the same time, these other investment funds, vehicles or accounts may compete with our clients with respect to these investments."
First Declines
Platt, a former JPMorgan Chase & Co. proprietary trader who is worth $1.1 billion, according to the Bloomberg Billionaires Index, started BlueCrest in 2000. Assets at the firm have dropped 18 percent from a peak of $37.4 billion a year ago amid investment losses and client redemptions, according to an April investor update.
BlueCrest's two biggest hedge funds posted their first annual declines in 2013. This year, the firm's $12.7 billion BlueCrest Capital International fund, which invests in a range of assets from bonds to currencies, gained 0.72 percent in the first quarter, according to performance reports sent to clients. Hedge funds on average returned 1.36 percent in the same period, according to data compiled by Bloomberg.
BlueCrest's $10.2 billion BlueTrend fund, which uses computer models to follow trends in futures markets, fell 2.8 percent through April, an investor report shows. Such funds on average posted a 3.52 percent gain.
Albourne said its clients, which include the Teacher Retirement System of Texas, have more than $350 billion invested in so-called alternative investments such as hedge funds, private equity and real estate, according to its website.
Before it's here, it's on the Bloomberg Terminal.
LEARN MORE