WPP's Sorrell Sees Ad Mergers as Omnicom-Publicis Fails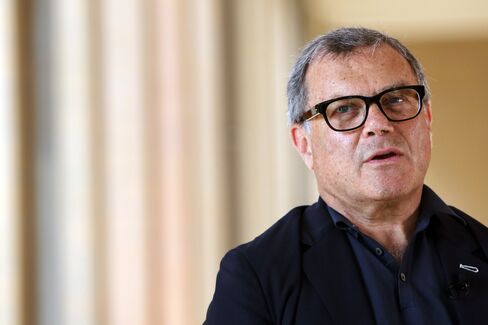 Publicis Groupe SA and Omnicom Group Inc.'s failed merger won't bring a respite from consolidation in the advertising industry, WPP Plc Chief Executive Officer Martin Sorrell said.
Global ad revenues are set to exceed half a trillion dollars this year, Magna Global predicted in December. Sporting events including the Sochi Winter Olympics and soccer World Cup starting in Brazil next month will help boost the industry by 6.5 percent to $521.6 billion.
"There will never be a period of calm and there will be more consolidation," Sorrell said in a phone interview today. Dentsu Inc. may bid for Interpublic Group of Cos. while Havas SA could be a target for Vivendi SA, he said.
London-based WPP remains the largest advertising company worldwide with the $35 billion merger of Publicis and Omnicom called off. The French and U.S. companies said they couldn't overcome obstacles that slowed the deal's completion and the transaction was unanimously halted by both boards 10 months after it was announced.
"Since the merger did not go ahead, nothing has changed in the environment for us," Dentsu spokesman Shusaku Kannan said by phone from Tokyo. "It will be business as usual." It took Dentsu more than eight months to complete the $4.9 billion purchase of Aegis Group Plc of the U.K. in 2013.
Havas Scale
Havas, partly owned by billionaire Vincent Bollore, said its scale allows the company to "adapt more efficiently to the new environment of the communications industry." Havas, about one-fifth the size of Publicis with a market value of 2.45 billion euros ($3.4 billion), declined to comment on rivals.
Bollore ceded his role as Havas chairman to his son Yannick in August as he gears up to become chairman of Paris-based Vivendi, in which he owns a stake of about 5 percent. Both father and son have said during the past year that they have no plan to merge the companies.
Publicis Chief Executive Officer Maurice Levy said the company isn't exploring any large acquisition after talks with Omnicom broke down, though it has several smaller targets in the pipeline. He said the balance of the planned merger didn't make it one of equals, with disagreement on the director roles.
The goal for Publicis to grow remains intact, he said on a conference call today. "Getting bigger was the driver for the merger and that remains."
Publicis Strategy
"It is not a major problem for Publicis to continue their strategy without Omnicom," said Norbert Janisch, a fund manager at Vienna-based Raiffeisen Capital, which manages about 30 billion euros, including shares in Publicis. "They will probably do a major buyback transaction rather than another M&A deal. I can imagine further consolidation including smaller players, but not among the top three companies" of WPP, Publicis and Omnicom.
The failed merger reduces pressure on industry leader WPP to find a large deal, said Claudio Aspesi, an analyst at Sanford C. Bernstein in London. It may also spell a renewed effort for Publicis to target an acquisition of U.S. peer IPG.
"In the past Publicis pursued it and I think IPG at the right price will sell," he said.
IPG isn't actively looking to be taken over, CEO Michael Roth said in interview April 1 in London, while WPP said in November it wasn't looking at IPG.
Advertising deals will bounce back from the Publicis-Omnicom setback, said Espen Furnes, who helps oversee about $80 billion at Storebrand Asset Management in Oslo.
"I don't think M&A is off the table for good, just that this combination wasn't feasible," he said. "The outlook for the sector as a whole is good, so appetite for smaller bolt on-acquisitions should be good."
Before it's here, it's on the Bloomberg Terminal.
LEARN MORE