Wake Up, Bond Traders: Market Is a Volatility-Free Bore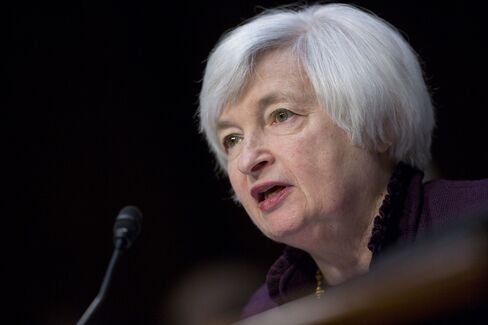 Wall Street bond traders could use an espresso.
U.S. government-debt dealers just had the slowest April since 2010 even though the market has ballooned by about 37 percent since then, Federal Reserve data show. Prices are barely budging, with volatility plunging toward record lows. The debt just won't drop in value, regardless of how many investors put on bearish wagers in anticipation of rising interest rates.
"Who's going to sell bonds tomorrow?" said James Bianco, president of Bianco Research LLC in Chicago. "Essentially nobody, because they're already positioned waiting for it to go down."
Waiting. Waiting. And they may still be waiting in six months because the Fed is signaling it's going to maintain easy-money policies for as long as it takes to sufficiently kindle economic growth.
The result: Bond traders have little to do. A gauge of volatility in Treasury yields, as measured by Bank of America Merrill Lynch's MOVE index, has fallen 22 percent from the end of last year, and was 38 percent below the decade-long average as of yesterday.
Daily trading of U.S. government securities dropped to an average $483 billion last month from $516 billion in the same period a year earlier, according to Federal Reserve Bank of New York data tracking volumes at primary dealers that do business directly with the central bank. This year, average daily volumes have fallen to $509 billion from $539 billion in all of 2013.
Revenue Drop
That's bad for the bottom line at bond dealers. JPMorgan Chase & Co., the biggest U.S. bank, predicted in a filing last week that fixed-income and equities trading revenue will drop about 20 percent in the second quarter from a year earlier. Credit Suisse Group AG, the second-largest Swiss bank, cut more than 100 fixed-income jobs in London and New York last year, partly in response to dropping revenues from rates trading.
One reason it's been so slow is that fund managers face a damned-if-you-do, damned-if-you-don't scenario. Investors are loathe to jump back into a market when almost all economists predict yields will (eventually) rise later this year. And selling what you've got left may mean missing out on even more of the unexpected rally that's led to 10.6 percent gains on the longest-dated government notes.
Everyone's Short
Meanwhile, Fed Chair Janet Yellen sent two-year yields down further with her May 7 testimony before Congress. She said that "a high degree of monetary accommodation remains warranted" as there are still too many Americans without jobs and inflation is too low. The central bank is still buying billions of dollars of Treasuries each month -- albeit at a slower pace -- and is the biggest single holder of the debt.
Economists surveyed by Bloomberg expect 10-year Treasury yields will rise to 3.24 percent at year-end from 2.61 percent today. Analysts have caved to the rally a little and reduced their forecasts from 3.34 percent last month.
"The investment community is nearly 100 percent short bonds and demanding bonds fall in price," analysts led by Bianco wrote in a May 8 presentation. "Why are bonds rallying? Everyone is already short and there are no sellers left."