Vietnam Learns Yet Again It's Not Easy Being China's Neighbor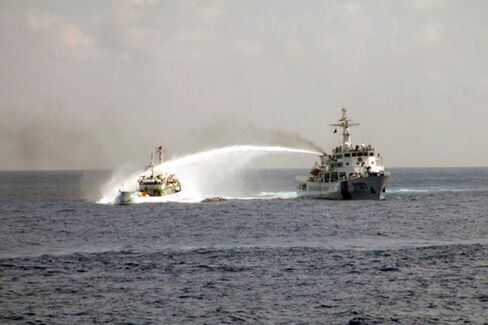 It might be time for Vietnamese Communist Party chief Nguyen Phu Trong to check in with Japanese Prime Minister Shinzo Abe and Philippine President Benigno Aquino about how to cope with name-calling from Beijing. With Vietnamese and Chinese ships having at one another in the South China Sea, Vietnam's leader is poised to become China's new neighborhood villain. The Chinese government is assailing what it calls Vietnamese harassment of a Chinese oil rig in disputed waters in the South China Sea, with the official China Daily newspaper on Thursday reporting the country has "demanded" that Vietnam "cease its harassing actions."
This came a day after a senior official in Beijing said China is "deeply shocked" by the ramming of Chinese ships by Vietnamese vessels. "Vietnam's disruptions of the Chinese company's normal activities have seriously violated China's sovereignty, sovereignty rights and jurisdiction, gravely affected the normal order of production and operation and the safety of China's rig, and caused unnecessary troubles for China-Vietnam relations," an official from China's Foreign Ministry said, according to the official Xinhua news agency.
Vietnam says everything is China's fault, alleging Chinese ships were the ones doing the ramming near a Chinese oil rig that China has plopped down on Vietnam's continental shelf without permission. Chinese ships had injured six Vietnamese sailors, the country's VNS news agency reported. The Viet Nam News published a photo, handed out by the government, of a Chinese ship allegedly attacking a Vietnamese ship with a water cannon.
Water cannons are one thing. But with China's already fraught relations with its neighbors suddenly even worse, chances have increased that the weaponry will become more lethal. China and Vietnam fought a brief border war in 1979, and the new confrontation near the oil rig is the most significant dispute between the two states in decades, says Jonathan London, assistant professor of Asian and international studies at the City University of Hong Kong. China's claims to the entire South China Sea are "extremely grandiose," he says. "Now it appears that Beijing is following [up] on its earlier proclamations of sovereignty with significant, concrete steps."
The Vietnamese don't have many good options. They'll probably try to get fellow members of the Association of Southeast Asian Nations to join in opposition, but countries such as Cambodia and Laos, which don't have any disputes with Beijing, could scupper that united front.
Vietnam might also follow the lead of the Philippines and take China to court. In March, the Aquino government went to the United Nations, with Manila submitting nearly 4,000 pages of arguments calling on the Permanent Court of Arbitration to restrain China's grab for territory in what Filipinos call the West Philippine Sea. But China has said it cannot accept international arbitration for territory that's an integral part of the country.
The new conflict with China could also hurt a nascent recovery in the Vietnamese economy. GDP growth was a tepid 5.4 percent last year, compared with growth of 7 percent-plus before the global financial crisis. The inflation rate has subsided after years of dizzying price increases; for the first time in four years, Vietnamese inflation is below 5 percent. That has given the central bank room to lower interest rates, which are now at a six-year low. Exports to the U.S. of textiles and garments are likely to increase 10 percent this year, to $9.7 billion, according to the American Chamber of Commerce in Vietnam. To make the country more attractive to foreigners, the government is planning changes to the investment law that would address uncertainty about whether companies qualify as foreign or local.
Still, at a time when China is becoming a more expensive place for foreign investors to operate, Vietnam should be doing much better. Low-wage manufacturers are looking to move away from China and its rising costs, and while Vietnam is a logical alternative, the results so far are a little underwhelming. For instance, Vietnamese exports improved 15.4 percent last year, down from 18.3 percent growth in 2012 and 33.3 percent in 2011.
Now the confrontation with China is giving Vietnamese investors more worries. The benchmark stock index dropped 5.9 percent yesterday, the biggest one-day decline in more than a decade. Since hitting a high of 607.5 in late March, the VN Index has fallen 12 percent, due in part to the increase in tensions with China. And there may be more bad news ahead. "The Vietnamese 'street' is extremely upset by these most recent developments," says London. "Vietnamese cyberspace is on fire." He expects demonstrations this weekend.
Before it's here, it's on the Bloomberg Terminal.
LEARN MORE