Rainy-Day Fund at U.S. Treasury Seen Inadequate in Perfect Storm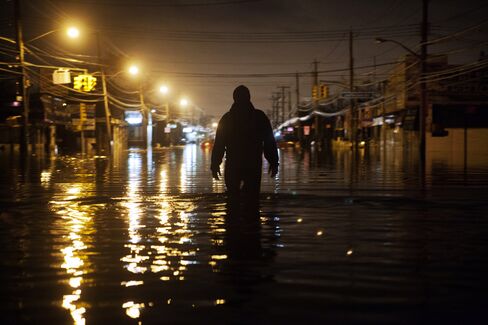 Superstorm Sandy taught U.S. Treasury officials they need to keep more cash on hand for a rainy day. The solution may be a rising tide of bill sales in the years ahead.
The hurricane that battered the Northeast U.S. in October 2012 closed bond markets for a day and a half, among three events since 2001 that interrupted the Treasury's access to funding. After the latest disruption, resulting from an auction system malfunction in December, an advisory panel recommended steps including beefing up the Treasury's cash cushion to avoid the risk of default as bigger chunks of debt fall due.
Bankers on the Treasury Borrowing Advisory Committee say a market interruption might come at the worst possible time, on a day when the government faces an unusual surge in maturing debt.
"The Treasury is thinking about whether it has operational risk to losing access to the capital markets and wants to make sure it has a liquidity buffer," Jay Barry, a fixed-income strategist at JPMorgan Chase & Co. in New York, said in a telephone interview. "Higher cash balances would protect the Treasury against any perfect storm of them not being able to access the capital markets for a number of days at a time."
A larger balance will come in handy particularly in 2018, when the Treasury faces a spurt of maturing 10-year debt sold during the 2008 financial crisis. By then, as much as $138 billion could mature on a single day, compared with $59 billion in the most recent quarterly sale of debt, according to Michael Cloherty, head of U.S. rates strategy at Royal Bank of Canada's RBC Capital Markets unit in New York. Treasury was sitting on about $60 billion of cash on any given day last year.
Cost-Free Cash
The cheapest way for the government to increase the balance would be to sell more Treasury bills. That would help satisfy market demand for short-term government debt, which has increased over the past year amid a glut of cash in the financial system and as banks meet more stringent capital and liquidity rules.
The $25 billion in three-month Treasury bills sold on May 5 had a bid-to-cover ratio of 4.86. The ratio, which gauges demand by comparing the amount bid with the amount offered, has averaged 3.1 since the start of 2000.
An unusual set of circumstances means the Treasury could increase its rainy-day fund without additional cost, said Cloherty, whose bank is one of 22 primary dealers that trade with the Federal Reserve.
"Normally holding more cash is expensive as the Treasury has to pay interest to raise this money," he said. "However right now it's a unique period where it does not cost the Treasury anything to increase cash balances."
That's because the cost of issuing government debt currently is lower than the interest the Fed pays on its holdings of bank reserves.
Larger Profits
The math works this way: When the Treasury sells short-term debt to an investor, the Fed credits the Treasury's account and debits the reserve account of the investor's bank. That reduces the interest the Fed pays on its holdings of bank reserves, meaning larger profits for the central bank to send back to the Treasury at the end of the year, Cloherty said. Bigger Fed remittances could offset almost all of the cost of issuing the additional Treasury debt, or even generate a profit, he said.
For example, Cloherty said, if the Treasury were to sell $100 billion worth of bills at a rate of 0.08 percent, while the Fed is paying 0.25 percent on reserves, the gain to the Treasury at the end of the year could amount to $170 million.
Adjusting Sales
The Treasury routinely relies on adjusting sales of Treasury or cash management bills to smooth out seasonal variations in financing needs. If a market disruption keeps the Treasury from selling bills, "it runs the risk, albeit remote, of a potential technical default," the advisory committee said in its report.
Trading closed after the Sept. 11, 2001, terrorist attack, after Sandy hit on Oct. 29, 2012, and again last Dec. 2, because of an error during a test of Treasury's auction system, according to the TBAC.
While there have been only three disruptions in 14 years, "if it happens even once it's a bad thing," Thomas Simons, a government-debt economist in New York at the primary dealer Jefferies Group LLC, said in a telephone interview. "Concern over this is warranted. Through a higher cash balance you are preventing disruption to the market for one reason or another -- be it volatile auction sizes or potential for a default."
Debt Limit
Treasury officials say beefing up the cash cushion would create a buffer in case financial markets are disrupted. And they say it would be unrelated to possible future standoffs with Congress over raising the government's debt limit.
"We're trying to separate out the debt-ceiling debate from this," Matthew Rutherford, the Treasury's assistant secretary for financial markets, said at an April 30 press conference. "This was more focused on a number of operational issues that could potentially occur."
In any case, even a bigger cash balance wouldn't provide a sufficient buffer in any debt-ceiling impasse, said Michael Pond, head of global inflation-linked research for Barclays Plc in New York.
The $60 billion Treasury has now "is not a whole lot," Rutherford said. Depending on the time of the year, it can cover a day of expenditures, he said.
Marcus Huie, rates strategist at primary dealer Bank of America Merrill Lynch, said the Treasury could raise the average cash balance to $130 billion to $150 billion this year and to $200 billion in 2018, in line with the increasing size of debt maturities and government expenditures. Simons said the fund could rise to around $90 billion to $100 billion.
The advisory panel pointed to the example of Canada, which in 2011 decided to increase its cash balance by C$35 billion ($32 billion) to about C$95 billion to protect its ability to make timely payments.
"Other sovereigns hold a significant amount more of cash on a daily basis," Rutherford said.