Irish Bond Gain Pushes Yields Below U.K. on ECB-Led Recovery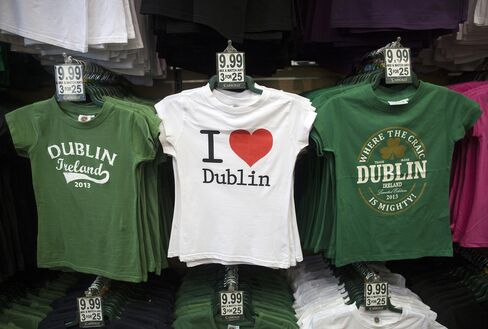 Ireland's 10-year bonds rose, pushing the nation's borrowing costs below the U.K.'s for the first time in more than five years, underlining the success of its rehabilitation after requiring an international bailout in 2010.
The Irish securities advanced for a ninth consecutive day, with yields falling to an all-time low. Fueling the rally this week were comments from European Central Bank President Mario Draghi that policy makers are prepared to add economic stimulus next month if needed. U.K. securities are underperforming their euro-area counterparts amid speculation the Bank of England is moving closer to raising interest rates.
"There is downward pressure on Irish yields in combination with at least some upward pressure on U.K. ones," said Owen Callan, an analyst at Danske Bank A/S in Dublin. "Low inflation, slow but positive growth, and lack of ECB tightening in the coming years supports lower yields and further spread compression, so euro-zone bonds are a buy generally. In the U.K., the recovery, and nominal growth expectations, are much more advanced."
Benchmark Irish 10-year yields fell two basis points, or 0.02 percentage point, to 2.66 percent at 3:10 p.m. London time, after touching a record-low 2.64 percent. The 3.4 percent bond due in March 2024 rose 0.21, or 2.10 euros per 1,000-euro ($1,378) face amount, to 106.37.
The yield on similar-maturity U.K. gilts rose four basis points to 2.69 percent. The yields were above Ireland's for the first time since October 2008, based on closing-market data.
Bailout Exit
Draghi said yesterday officials are "comfortable" about taking further action to stimulate the economy next month if required, boosting bonds across the euro region.
Speculation the ECB will ease monetary policy, coupled with signs the debt crisis that threatened to splinter the currency bloc is abating, pushed the average yield to maturity on bonds from Greece, Ireland, Italy, Portugal and Spain to 2.13 percent yesterday, the least on record, according to Bank of America Merrill Lynch indexes. The yield reached a euro-era high of 9.55 percent in 2011.
Ireland exited its bailout program in December without the need for a precautionary credit line, and auctioned government bonds in March for the first time since 2010. The nation entered a three-year rescue program that year after the collapse of its real-estate market crippled the country's banks.
CDS Spread
It still costs more to insure Irish government debt than the U.K.'s, though the difference is the smallest in more than four years, Bloomberg data show. Credit-default swaps on Ireland fell to 60 basis points today from about 120 at the start of the year, while contracts on the U.K. dropped to 24.5 basis points from 28.
The Bank of England kept its benchmark interest rate at 0.5 percent yesterday, where it has been since March 2009. The central bank will increase its key rate by 25 basis points by March, according to forward contracts on the sterling overnight interbank average, or Sonia.
Irish bonds earned 6.4 percent this year through yesterday, according to Bloomberg World Bond Indexes. Gilts returned 3.3 percent in the same period, while U.S. Treasuries gained 2.7 percent.
U.S. 10-year rates were at 2.62 percent, leaving the yield difference between the securities and Irish debt at four basis points. That's the lowest since November 2007, based on market-at-close data.
Before it's here, it's on the Bloomberg Terminal.
LEARN MORE