Sensex Rises to Record as Options Soar Before Vote Result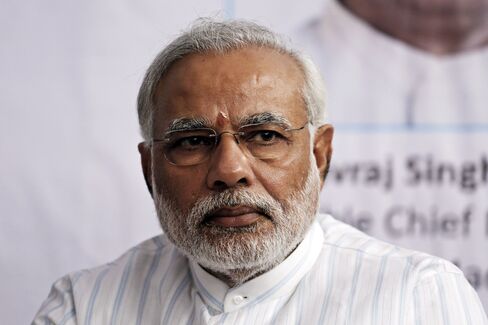 Indian stocks rallied, with the benchmark index rising to a record, on speculation election results next week may show a victory by the main opposition party. Option prices climbed to the highest level since 2009.
ICICI Bank Ltd. advanced to a six-year high, sending an index of lenders to a record. Maruti Suzuki India Ltd. rose the most in seven weeks. India VIX, which measures the cost of options on the CNX Nifty Index, surged to the highest level since August 2009 as traders bet exit polls May 12 and results May 16 will heighten market swings.
The S&P BSE Sensex rallied 2.9 percent to an all-time high of 22,994.23 at the close. The gauge rose for a third month in April as investors bet a win by Bharatiya Janata Party's Narendra Modi will allow him to boost economic growth from the lowest in a decade. Foreigners bought a net $88 million of local shares on May 8, a 13th day of purchases, data compiled by Bloomberg show. American depositary receipts of Indian companies climbed the most in seven months in New York.
"There's basket-buying happening and this rally will garner more legs as May 16 approaches," Alex Mathews, head of research at Geojit BNP Paribas Financial Services Ltd., said by phone from Mumbai. "Funds are building positions in frontline stocks ahead of the exit polls."
The Sensex has climbed 17 percent since Sept. 13 when the BJP named Modi as its prime minister candidate. The rally may extend if the party and its partners win more than 266 seats, approaching the 272 required for a majority, according to a Bloomberg survey of 19 brokers and investment advisory firms.
Hedge Funds
Rakesh Arora, head of research at Macquarie Group Ltd. in Mumbai and the most accurate forecaster for the stock gauge in 2013, said in a Bloomberg survey last month his year-end Sensex target of 23,900 may "prove conservative" if Modi comes to power. Foreigners have bought $5.6 billion of Indian shares this year, the second-most after Taiwan among 18 nations tracked by Bloomberg. They purchased a net $212 million of stocks today, according to provisional data from the exchanges.
"There is buying by overseas hedge funds," Jitendra Panda, head of broking at Capital First Ltd., said by phone from Mumbai. There's optimism a stable government will speed up economic reforms, benefiting companies in power and capital goods sectors, he said.
Prime Minister Manmohan Singh's Congress party looks set for its worst-ever electoral performance as voters punish the government for graft scandals, Asia's fastest retail inflation and slowing growth. Projects worth $230 billion are awaiting clearance as lawmaking stalled in the Congress-led coalition, data from the Cabinet Committee on Investment show.
ICICI Bank surged 7 percent to the highest level since January 2008. HDFC Bank rose 5.3 percent.
India VIX
Maruti Suzuki rallied 4.1 percent, the most since March 18. Power-equipment manufacturer Bharat Heavy Electricals had the biggest advance since March 7. Coal India Ltd. rallied the most since October. Tata Power gained the most since December.
India VIX surged 10 percent to 37.7 as traders braced for volatility before exit polls are announced on May 12 and votes are counted on May 16. The Nifty moved an average 14 percent in the two days after the results of the last three elections, as the outcomes defied polls' forecasts. The VIX may climb to 42 next week, said Geojit BNP's Mathews.
The Bank of New York Mellon India ADR Index added 3.6 percent to 1,251.74 in New York, the biggest gain since October. ADRs of ICICI Bank rose 8.7 percent to $48.50.
The Nifty jumped 3 percent to a record 6,858.8 on volume that was 14 percent above the 30-day average at the close. Open interest in out-of-money call options on the Nifty is rising on expectation of a positive election outcome, Samir Gilani, head of trading at IDFC Securities Ltd. in Mumbai, said by e-mail.
Open interest on 7,400 calls jumped 125 percent while that on 7,200 calls surged 73 percent, data compiled by Bloomberg.
The Sensex has climbed 8.6 percent this year and trades at 14.3 times projected 12-month earnings, compared with the average multiple of 14.5 over the past five years. The MSCI Emerging Markets Index is valued at 10.5 times.