With Big Obstacles Ahead, Tesla Still Isn't Checking Its Rear View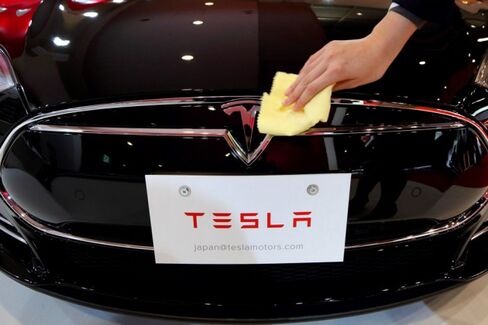 Tesla has a number of fairly huge challenges ahead. It has to build out a worldwide network of charging stations, entirely change the way cars are sold, produce a crossover SUV from scratch, and build a giant factory to crank out batteries that are 30 percent more efficient than anything else on the market.
One thing, however, the company doesn't appear to be the slightest bit concerned about: Whether people will stop buying its cars.
That's typically what keeps most car executives up at night. All the other stuff—the cost of building materials, dealership infrastructure, exchange rates—falls a little further down the list of worries.
But Elon Musk argues that traditional supply/demand forces don't apply to his baby car company. On a conference call yesterday, Musk spent more time talking about door gaskets on Tesla's coming Model X than he did about any threat from BMW or Cadillac, or the possibility that the vector for Tesla fever would narrow.
Here's the guiding principle of Teslanomics as explained by Musk: "Deliveries and demand are not the same thing for Tesla. They are for other car companies, but not for Tesla."
Translation: Tesla will keep selling cars as fast as it can make them. The sky's the limit, particularly in China, where Musk says people are waiting up to five months for delivery of their sleek sedans.
Most notably, Musk didn't mention BMW's i8, a carbon-fiber spaceship that runs on both a battery and a tiny, 3-cylinder combustion engine. When it tears out of dealerships next month, the i8 is expected to get as much as 135 miles per gallon. Anyone who spends $136,000 on a such a machine likely won't mind that a trip from Boston to Washington, D.C., will cost about $13 more than it would in a Tesla.
There was also no discussion of the Mercedes B-class Electric Drive, which journalists in California got to drive for the first time last week. Its range is less than half of Tesla's, and it doesn't look nearly as sexy, but with a starting sticker price of $41,450, it's also almost half the cost.
We get it. Musk is right, nothing is really like a Tesla: a long-range, all-electric luxury vehicle at a price comparable to gas-powered counterparts. But by the time Musk builds his giant battery factory and rolls out its next model—by the time Tesla plans to be cruising, finally, into the black—something may be pretty close.
Before it's here, it's on the Bloomberg Terminal.
LEARN MORE