Wage Growth Signals Fed Policy Shift This Year: Chart of the Day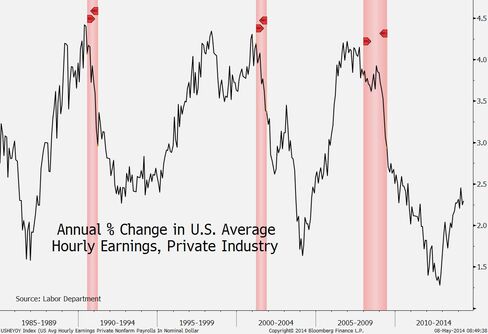 Wage inflation will lead the Federal Reserve toward a more restrictive monetary policy later this year, according to Torsten Slok, Deutsche Bank AG's chief international economist.
As the CHART OF THE DAY illustrates, pay raises at U.S. companies have accelerated in the past 18 months, according to data compiled by the Labor Department. Average hourly earnings rose 2.3 percent in April from a year ago, a full percentage point above a record low set in October 2012.
"We will continue to see more and more wage pressure" as the economy grows faster, Slok wrote this week in a report with a similar chart. When combined with rising prices, the pay increases "will force the Fed to turn more hawkish."
Worker pay rose at a faster pace for four to five years during each of the previous three expansions, as the New York-based economist wrote in the report. The growth rate peaked at more than 4 percent each time.
The U.S. economy's expansion will reach 2.7 percent this year and 3 percent next year, up from 1.9 percent last year, according to the average estimate of 78 economists in a Bloomberg survey.
Slok's report came out before Fed Chair Janet Yellen made an appearance yesterday before the Joint Economic Committee of Congress. She testified that the economy still needs plenty of stimulus because unemployment and inflation have yet to reach the central bank's goals.
"Most measures of labor compensation have been rising slowly," Yellen told the panel. She added that the pace shows "a substantial amount of slack remains in the labor market," which means companies and other employers won't run out of people to hire any time soon.