Renzi Said to Ready Post Office IPO Decree as Soon as Tomorrow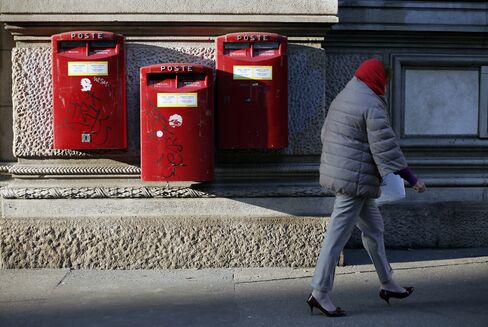 Italian Prime Minister Matteo Renzi may present his plan for selling shares in the state-owned postal service to the cabinet as soon as tomorrow, a person familiar with the matter said.
The decree setting out the sale will be discussed at the next meeting of the cabinet, which will be either tomorrow or next week, said the person, who asked not to be named because the plan hasn't been announced.
Renzi will confirm the government's previously announced intention to sell up to 40 percent of Poste Italiane SpA in more than one offering and provide incentives for employees to buy shares, according to a draft obtained by Bloomberg News. A spokesman for Renzi didn't return a call seeking comment.
Renzi, 39, is planning to dispose of state assets from securities to real estate to reduce a public debt that is forecast to rise to 135 percent of gross domestic product this year. With almost 14,000 offices, Poste offers savings and insurance products along with traditional letter and package delivery.
Finance Minister Pier Carlo Padoan has said Renzi's administration, which took over in February, wants to speed up the privatization process. On April 30, Padoan said sales of Poste and air-traffic control agency Enav SpA are "one chapter of a very ambitious program."