Putin Tests Combat Readiness as Separatists Press Ahead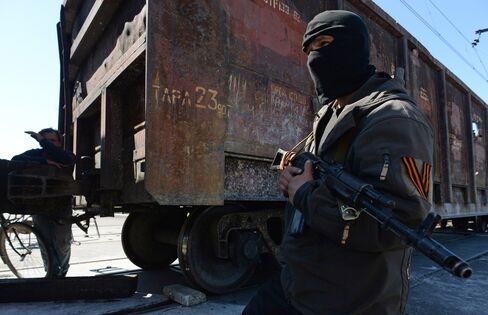 President Vladimir Putin said Russia is testing its army's combat readiness, ramping up tensions after pledging a pullback from Ukraine's border. Pro-Russian separatists in Ukraine vowed to press ahead with autonomy votes.
NATO said there's no sign of any Russian withdrawal from the frontier. The Russian leader's latest statement came less than 24 hours after a shift of tone on Ukraine, in which he urged the separatists in the Donetsk and Luhansk regions to postpone balloting scheduled for May 11.
"Today's planned exercises will involve all of the armed forces across Russia, including our nuclear deterrent," Putin said at the Defense Ministry in Moscow, where he watched the drills by video link.
Russia has massed about 40,000 troops along the Ukrainian border, according to the North Atlantic Treaty Organization. The government in Kiev and its U.S. and European allies accuse Russia of fomenting separatist unrest in eastern Ukraine and warn that Putin may follow his annexation of Crimea with another land grab against his neighbor.
Yesterday's pronouncements by Putin sparked a rally on Russian and Ukrainian financial markets. Today, Russia's Micex equity index was 0.6 percent higher at 5:55 p.m. in Moscow. The ruble declined 0.1 percent to 41.1288 against the central bank's target dollar-euro basket. The yield on Ukraine's dollar notes due in April 2023 fell four basis points to 10.15 percent. The hryvnia weakened 0.3 percent to 11.6563 per dollar by 4:21 p.m. in Kiev.
Missile Launches
As part of the military drills, Russian nuclear submarines carried out two successful ballistic-missile launches, while air-space defense forces repelled a mock nuclear strike, the state-run RIA Novosti news agency reported.
Aleksandr Maltsev, a spokesman for the separatists' "Donetsk People's Republic," said by phone that the autonomy referendum in the region will go ahead as planned. A similar decision was announced in Luhansk. Even so, the pro-Russian organizers don't have access to the electoral register and other voting infrastructure.
The referendums "would have no democratic legitimacy and would only further worsen the situation" in Ukraine, Maja Kocijancic, the spokeswoman for EU foreign-affairs chief Catherine Ashton, told reporters in Brussels.
'Stay Skeptical'
The latest events are "just Putin shadow-boxing," Shada Islam, a director at the Friends of Europe policy-advisory group in Brussels, said by phone. "The West is so desperate for any sign of a softening of Russia's hardline stance that some people will believe it. He's pulled this kind of thing before and Europe must stay skeptical about words and wait for deeds -- for facts on the ground, like a verified troop pullback from the Ukrainian border."
NATO Secretary General Anders Fogh Rasmussen said there was no sign of the withdrawal Putin pledged yesterday.
"We haven't seen any indications that they're pulling back their troops," he told a news conference in Warsaw with Polish Prime Minister Donald Tusk. "If there's visible evidence, I'll be the first to welcome it."
The U.S. and the European Union have imposed sanctions on Russian companies and individuals and threatened to tighten them if Putin doesn't end his support for the separatists.
Sanctions Extension
The EU is preparing to extend sanctions to companies in Crimea that it alleges benefited from annexation when foreign ministers meet May 12, though the bloc is still far from imposing broader economic penalties, an official from the bloc told reporters in Brussels today on condition of anonymity.
The government in Kiev, which took over after pro-Russian President Viktor Yanukovych was toppled by protesters in February, opposes the referendums. It has sent troops into the region to quell uprisings by pro-Russian activists who seized control of some government buildings.
In Luhansk, one person died early today in an exchange of fire at a checkpoint manned by gunman, according to Ukraine's Interior Ministry.
There was also shooting in the southern city of Mariupol today, with one person injured as troops surrounded a government building, according to the local Mariupolskie Novosti news service.
Presidential Election
Putin said yesterday that violence in Ukraine must stop for any dialogue to begin, and he backed the presidential election that Ukraine has scheduled for May 25. That marked a change from what Russian Foreign Minister Sergei Lavrov said on May 6, when he called for a delay to the vote because of the Ukrainian unrest. The U.S. and the EU say the election should proceed. Russia has said Yanukovych is still Ukraine's legitimate president.
Lavrov told French Foreign Minister Laurent Fabius in a phone call today that the presidential vote would be "pointless" if the government in Kiev continues to deploy military forces in the east, according to a Russian Foreign Ministry statement.
"There is great time pressure if the elections are to take place on May 25." German Chancellor Angela Merkel told WDR television. "There has been a high level of destabilization caused not least by Russia's actions. So we're going to be observing this very closely."
In another development, Ukraine's government said it's refusing to pre-pay for natural gas supplied by OAO Gazprom after the Russian energy exporter increased its price 81 percent last month, raising the risk of supply disruptions.
Ukraine won't pay for the fuel at a price of $485 per 1,000 cubic meters, which it considers economically unjustified, and is disputing Gazprom's claim that it owes $3.5 billion through April, Energy Minister Yuri Prodan told reporters in Kiev today.
Before it's here, it's on the Bloomberg Terminal.
LEARN MORE