Merkel Welcomes Putin's Attendance at June D-Day Ceremony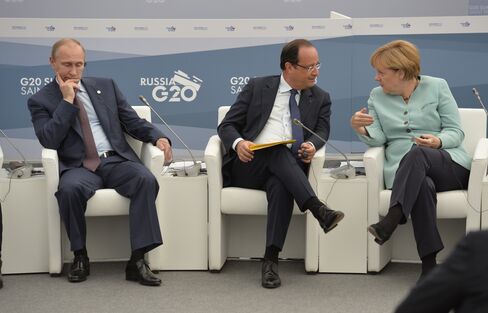 May 8 (Bloomberg) -- German Chancellor Angela Merkel welcomed President Vladimir Putin's decision to attend next month's ceremony to commemorate the 70th anniversary of the D-Day landings in Normandy.
Merkel, speaking in an interview with WDR television in Berlin today, said that Putin's presence at the June 6 event in France was a positive sign during times of tension with Russia over its involvement in the unrest in Ukraine.
"I'm pleased by the news that President Putin is participating in the meeting in Normandy," Merkel said. "I had wished that despite the differences of opinion that we have and this large conflict -- that despite that, a commemoration of the difficult times of World War II would be possible. Therefore I think it's good news."
French President Francois Hollande said earlier today during celebrations marking the end of WWII in Europe that Putin was welcome to attend. Russian news service Interfax cited Putin's spokesman, Dmitry Peskov, as saying that "preparations for the visit are under way."
Queen Elizabeth II and President Barack Obama are among the leaders who plan to attend the event marking the Allied landings of June 6, 1944.
No Surprise
Josh Earnest, a White House spokesman, said it wasn't a "remarkable surprise" that Putin planned to attend given Russian soldiers fought with the allies. He said there were no plans for Obama to have a separate meeting with Putin while both leaders are there.
The Normandy landings were only possible because of the Soviet Army effort in the east, Hollande said in an interview with France 2.
"How can you not invite the president of a people who left 9 million dead in the battle against Nazism," French Defense Minister Jean-Yves Le Drian said on RMC Radio. "The landings in Normandy would never have been possible without the eastern front."
Putin's attendance had been called into doubt because of Russia's increasing international isolation over its support for separatist movement in Ukraine after annexing the Crimea peninsula. European Union governments are preparing to expand sanctions to protest Russia's refusal to back down, adding to a list of individuals already targeted by the EU and the U.S.
Sochi Scrapped
Obama, Merkel and Hollande will attend the Normandy commemoration after meeting in Brussels on June 4-5 with fellow Group of Seven leaders. That summit was called after G-7 leaders suspended Russia from the Group of Eight and canceled their attendance at a planned G-8 meeting which was to have been held in the Russian resort of Sochi, site of the Winter Olympics.
Amid escalating violence in eastern and southern Ukraine, the authorities in Kiev are planning to hold presidential elections on May 25. With "a high level of destabilization caused not least by Russia's actions," the aim is still to "at least continue to pursue" the elections, Merkel said.
She welcomed Putin's attendance in Normandy next month as a positive signal "that such a thing is possible, despite great differences in our interests."
"Now let's wait and see what happens by June 6," Merkel said.
To contact the reporters on this story: Patrick Donahue in Berlin at pdonahue1@bloomberg.net; Tony Czuczka in Berlin at aczuczka@bloomberg.net
To contact the editors responsible for this story: Alan Crawford at acrawford6@bloomberg.net Ben Sills