McDonald's Tests America's Appetite for Seasoned French Fries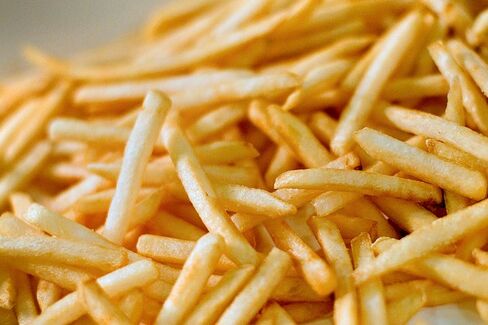 Burger King launched an assault on McDonald's fries last fall with a lower-fat, lower-calorie option. Now the Golden Arches is cooking up its own twist on the side-order staple with a test of do-it-yourself seasoned fries.
A customer in Stockton, Calif. posted a picture of the fries (above) on Twitter this week. "I've only tried the Garlic Parmesan, and it was delicious," he wrote in a followup message. The test officially begins in Northern California and St. Louis on Friday, according to McDonald's spokeswoman Lisa McComb.
The fries come with three options for spices—garlic parmesan, spicy buffalo, or zesty ranch—that customers add from packets. The fries themselves will come in a bag with printed instructions: "1) Pour 'em 2) Sprinkle 'em 3) Close 'em. 4) Shake 'em 5) Love 'em."
The idea isn't new, even for McDonald's. The company has been selling a precursor called "Shake Shake" fries, which are available in China, India, and Australia and first launched back in 2005. More than a decade ago, Burger King launched comparable "Shake'em up Fries," which were not available for long. Time will tell if McDonald's latest foray into seasoned fries lasts long enough to expand out of the two test markets.
Before it's here, it's on the Bloomberg Terminal.
LEARN MORE