Harper Re-Election Hinges on 73-Year-Old Rookie Oliver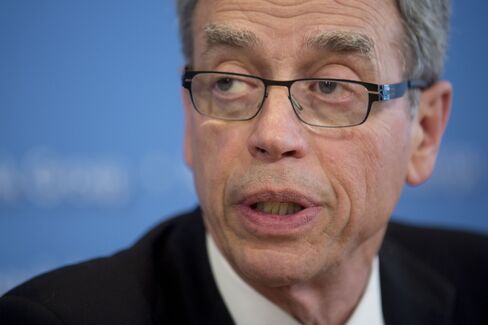 Prime Minister Stephen Harper is placing a 73-year-old rookie politician at the center of his 2015 re-election bid.
Finance Minister Joe Oliver's appointment in March to succeed Jim Flaherty entrusts the former investment banker with the task of preserving the government's reputation for economic management as it battles voter fatigue following more than eight years in power. Oliver also inherits the critical job of getting Conservatives re-elected in and around Toronto, a key to Harper's electoral chances.
The decision to bypass more senior ministers is a bet that Oliver's financial pedigree, and his status as a political outsider who isn't likely to be part of any future leadership bid, gives Harper the best chance of keeping the electorate focused on what he hopes will be the ballot box question in the next election: the economy.
"What the choice signals is the prime minister figures policy continuity and the global message of stability was the most important thing," said Jason Lietaer, a campaign strategist for Harper in the 2011 elections. "Stability is part of the government's core economic message."
The appointment of Oliver to replace Flaherty, who died April 10, is not without risks. The job will require him to navigate the tricky waters of cabinet budget debates that would pose challenges for the most experienced political hands.
Oliver, elected to office for the first time three years ago, will need "a little bit of the Irish charm" that Flaherty had, said Nik Nanos, an Ottawa-based pollster and president of Nanos Research Group. "The ideal finance minister has political clout, people skills to manage fellow cabinet ministers and a public face to project confidence."
Investment Banker
Oliver is a native of Montreal with a law degree from McGill University and an MBA from Harvard Business School. He worked as an investment banker for Merrill Lynch in the 1970s before moving to Nesbitt Thomson, an investment firm that would be bought in the 1980s by Bank of Montreal. He has also served as executive director of the Ontario Securities Commission, and spent 12 years heading the Investment Dealers Association, a self-regulatory group.
"In Joe Oliver, what you have is a stable stay-at-home defenseman who knows his job and does it well," said Goldy Hyder, a Conservative strategist and president of the lobbying firm Hill+Knowlton Strategies Canada, using a hockey analogy.
Oliver has spent much of his first weeks on the job reassuring Canadians how little things will change under his tenure. In interviews after his March 19 appointment, Oliver touted "continuity" in the government's program, what he called a "steady-as-she-goes plan."
Speech Tour
He spent a week traveling across Canada last month giving speeches that, essentially, pitched Flaherty's last fiscal plan in February, and reiterated familiar talking points of budget discipline.
"I don't know that it would differ in any fundamental way," Oliver said in an April 24 interview with Bloomberg News, in response to questions about how he would change policy.
The stakes are high for Oliver and Harper, with the Conservatives' popularity slipping in opinion polls behind the opposition Liberals over the past year amid a scandal involving improperly claimed Senate expenses. Harper also faces a historical challenge: no person has ever led a Canadian political party to four straight federal victories.
Oliver may have a more favorable economic outlook to deal with than his predecessor; job growth and economic output are emerging from an almost two-year funk. The country's currency has weakened, giving a push to exporters that Flaherty never had, and the country's housing market is headed for a soft landing, the central bank says, avoiding the potential crash policy makers had warned about.
War Chest
While Flaherty used his last three budgets to rein in spending, Oliver will get to allocate the fruits of those efforts with a war chest of almost C$45 billion ($41 billion) in projected surpluses between 2015 and 2018, some of which could be used for increased spending and tax cuts ahead of next year's elections.
Those surpluses create their own set of problems, said Christopher Ragan, an economics professor at McGill University in Montreal. Flaherty famously had a rubber stamp for printing the word 'No' on budget requests.
"The politics of budget surpluses are difficult," said McGill's Ragan, who had worked as an adviser to Flaherty. "It's just trying to prevent the zillions of demands for things, including from your caucus members.
Set Expectations
Oliver has tried to set some expectations for how surpluses will be used, while underscoring the government will widely consult on the matter. In his speeches, he's talked about tax cuts for ''hard working Canadians," and possibly businesses. He's declined to say whether he'd support the idea of income-splitting -- which would allow married couples with children to divide their income to lower the tax burden -- a Conservative promise from the last election campaign that Flaherty said he didn't like.
Oliver and Flaherty, in many ways, share similar histories. Both grew up in Montreal but settled in Toronto. Both are from middle class homes and went on to have elite educations -- Flaherty studied at Princeton University in New Jersey and Oliver at Boston's Harvard University.
Both have made history. Flaherty is the longest ever serving Conservative finance minister; Oliver is the oldest person ever appointed to the post, and the country's first Jewish finance chief.
The two men also shared economic thinking, Oliver said; what he calls a conservatism rooted in pragmatism not ideology.
Fiscal Conservative
"I'm a fiscal conservative for practical reasons," Oliver said. "You can't spend yourself to prosperity, or tax a country into prosperity, and you've got to have enough incentive for people and enough room for people to want to get out and generate the activity that creates prosperity."
Both men shared a desire for capital market reform. Oliver has said he'll pursue Flaherty's vision to consolidate the country's system of 13 different provincial securities regulators. The Globe and Mail newspaper reported yesterday that a third province, Saskatchewan, joined Ontario and British Columbia in taking up Canada's plan for a voluntary securities regulator.
Harmonization of securities rules was a matter that Oliver championed in his time as head of the Investment Dealers Association, an industry regulatory body, according to Ian Russell, chief executive of the Investment Industry Association of Canada, who worked with Oliver.
Similarities, Differences
"They're both fiscally conservative, they're both coming from the philosophic point," Russell said. "There's a lot of similarity between the two of them."
There are differences, too.
Flaherty had almost two decades of experience in politics before becoming Canadian finance minister -- at ease glad-handing through large crowds and extremely influential within his party as a power-broker.
By contrast, Oliver, at his first meeting of Group of 20 finance ministers last month in Washington, headed straight to his seat and was among the first to sit down as other officials hobnobbed and chatted around the meeting table.
Thomas Caldwell, chairman of Caldwell Securities Ltd. in Toronto, who worked with Oliver at Merrill Lynch in the 1970s, describes Canada's finance minister as a hard working man, unaccustomed to the trappings of power, with a sense of service and a calm demeanor who can "stick-handle" difficult situations.
Lost Car
He remembers running into him at the basement parking lot of the Sun Life Tower building in Toronto. Oliver, at the time natural resource minister, was lost.
"Here he is, trying to find his car, wandering around with his keys, just like the rest of us," Caldwell said.
That Oliver isn't considered a potential candidate to replace the prime minister may have increased Harper's confidence the two could work together, while making him palatable to potential contenders.
"The expectation would be that Joe Oliver is a loyal soldier whose ambition is aligned with Stephen Harper's political ambition," pollster Nanos said.
Then there's Toronto. The Conservatives have made gains in the greater Toronto area in every election since 2004, allowing them first to form power in 2006 and then gain a majority in 2011. Oliver is the first Conservative ever to win his Toronto district since it was formed in 1979 and it will be his job to consolidate gains in the city.
Toronto Staff
To help him, Oliver has hired Dan Nowlan, formerly co-head of equity capital markets at CIBC World Markets and a long-time Conservative organizer in the region, as his chief of staff.
Dan Miles, a long-term aide to Flaherty and formerly chief of staff to Labor Minister Kellie Leitch, was also recruited by Oliver to run his office in the city.
Oliver said his plan is to bolster his visibility in Toronto, build contacts with stakeholders and local officials and help Toronto overcome some of the transportation and infrastructure challenges that it faces.
"I have the political responsibility for the GTA and I intend to be a boost for the city in the context of my broad responsibilities," Oliver said, referring to the greater Toronto area. "It's important for Torontonians to understand how the government has been contributing to the city and what we intend to do to be helpful going forward."
Of course, instead of all these tasks and political headaches, Oliver acknowledges he could have just chosen a quiet retirement to cap his career in financial markets. On the other hand, Oliver jokes, "if you saw me play golf, you'd understand why I opted for politics."
Before it's here, it's on the Bloomberg Terminal.
LEARN MORE