Great Wall Motor Delays H8 SUV After Customer Complaints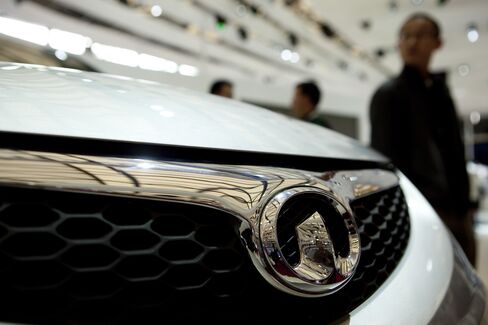 May 9 (Bloomberg) -- Great Wall Motor Co. tumbled the most in more than five years in Hong Kong trading after China's biggest maker of SUVs pushed back sales of its new flagship Haval H8 vehicle for the second time this year.
The shares, which were halted from trading yesterday pending the announcement, fell 17 percent to close at HK$27.25 in Hong Kong, driving their losses this year to 36 percent. The Shanghai-traded shares slumped by the 10 percent daily limit. The stock is now the second-worst performer on the 44-member Bloomberg auto index.
The company, led by billionaire Chairman Wei Jianjun, said yesterday it suspended sales of the H8 after customers reported hearing "knocking noises" in the transmission system when driving at high speeds. Great Wall will hold off on sales of the vehicle until it is able to make the H8 of a "premium standard," it said, without specifying a date.
Great Wall's stumbles with the H8 illustrates the reversal of fortune for a company that had seen its stock jump 40-fold over five years as its knack of keeping costs low helped it generate higher profit margins than any listed automaker in the world. In January, the carmaker delayed the introduction of the H8, its most expensive SUV, after the auto press panned it in test drives, causing the shares to tank 12 percent the next day.
'Monumental Challenges'
"The company faces monumental challenges in trying to move up a league in the automotive world, and the problems faced by the H8 confirm Great Wall is struggling with technology," wrote Max Warburton, an auto analyst at Sanford C. Bernstein in Singapore. "Serious questions will now be asked about Great Wall's growth potential."
Yesterday's H8 announcement prompted analysts at Mizuho Financial Group Inc., Citigroup Inc., China International Capital Corp., Yuanta Securities, KGI Securities, Oriental Patron Securities and Religare Capital Markets to cut their investment ratings on the stock.
High-End SUV
By contrast, the company told dealers this week to stop taking orders for its new Haval H8 SUV because it cannot make enough of the vehicles, two people familiar with the matter told Bloomberg News yesterday before the announcement.
The automaker started to deliver the H8 on April 21 during Beijing Auto Show, according to a posting on its website. Sales of the car started in cities including Beijing, Xi'an, Chengdu, Guangzhou, Kunming and Harbin.
H8 is the automaker's first high-end SUV model. The car is priced from 201,800 yuan ($32,400) to 236,800 yuan, according to Autohome, a car-pricing website.
"Currently we don't find sufficient evidence to say that its other new models will be delayed or impacted," Yankun Hou and Ming Xu, analysts at UBS AG who have a neutral rating on the stock, said in a note to clients yesterday. "But we believe the company has to increase R&D spending in order to remain competitive, even if short-term earnings growth is to be compromised."
Separately, Great Wall also reported yesterday April sales fell 11 percent.
To contact Bloomberg News staff for this story: Tian Ying in Beijing at ytian@bloomberg.net
To contact the editors responsible for this story: Young-Sam Cho at ycho2@bloomberg.net Chua Kong Ho