Geithner in Book Says U.S. Considered Nationalizing Banks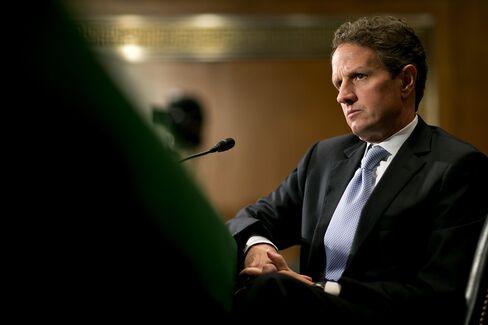 Former Treasury Secretary Timothy F. Geithner said in his new book that members of the Obama administration "talked openly" about nationalizing banks such as Citigroup Inc. in the aftermath of the financial crisis, according to an article in the New York Times Magazine.
Geithner disagreed when Lawrence Summers, then head of the White House's National Economic Council, suggested to President Barack Obama that the administration "pre-emptively nationalize" banks including Citigroup and Bank of America Corp., or try to embarrass them into changing their pay structures, according to the Times. The article includes quotes from the book, "Stress Test: Reflections on Financial Crises," and interviews with Geithner.
Geithner feared "fueling unrealistic expectations about our ability to eradicate extravagance in the financial industry," he wrote in the book, to be published May 12.
"I did not view Wall Street as a cabal of idiots or crooks," Geithner wrote. "My jobs mostly exposed me to talented senior bankers, and selection bias probably gave me an impression that the U.S. financial sector was more capable and ethical than it really was."
Geithner, 52, was Treasury secretary in Obama's first term and one of the key officials grappling with the worst financial crisis since the Great Depression. In 2008, as president of the Federal Reserve Bank of New York, he was instrumental in decisions to bail out insurer American International Group Inc. and allow Lehman Brothers Holdings Inc. to fail.
CEO Backlash
Geithner also said he refused to fire Kenneth Lewis, then chief executive officer of Bank of America, according to the Times article.
Geithner wrote that he was initially "at odds" with then-Treasury Secretary Henry Paulson and then-Fed Chairman Ben S. Bernanke over whether to rescue Lehman Brothers before the September 2008 weekend during which the regulators searched for a solution, according to the article.
"I sensed their advisers pulling them toward political expedience" and were "trying to distance them from the unpalatable moves we had made and the even less-palatable moves I thought we'd have to make soon," he wrote.
Lehman Bailout
Geithner was concerned that Paulson's public insistence that taxpayers not bail out Lehman Brothers could undermine the government's ability to pursue a rescue if one were needed, the Times reported, citing "Stress Test." Geithner preferred to send a message that a bailout might be available, which might have made the investment bank more desirable to a potential buyer.
"Those disagreements did not turn out to be consequential," Geithner wrote. He praised Paulson and Bernanke for their "courage."
Geithner, who joined private-equity firm Warburg Pincus LLC this year, said in the book that he and Summers initially opposed the Volcker rule ban on proprietary trading and his support for it was "certainly political."
He said in an interview with the Times he "wasn't interested" in replacing Bernanke as Fed chairman after he left the Treasury, and said he struggled initially over what do in his post-government career, though he didn't want to "go work for a bank or a firm that we'd regulated or that we'd rescued directly."
Geithner said he tried to resign as secretary "on multiple occasions," though Obama wouldn't "liberate" him, according to the article by Andrew Ross Sorkin.
On the legacy of the bailouts, Geithner rejected criticism that the Troubled Asset Relief Program benefited the rich rather than ordinary Americans.
"The argument that there was a way to somehow protect people without doing things that looked like you were protecting the banks -- was deeply confused and mistaken," Geithner told the Times. "And the accusation or the charge that our motivations were to help banks is kind of offensive to the people who worked with me and definitely to the president."
Before it's here, it's on the Bloomberg Terminal.
LEARN MORE