Plosser Urges FOMC to Clarify Likely Interest-Rate Path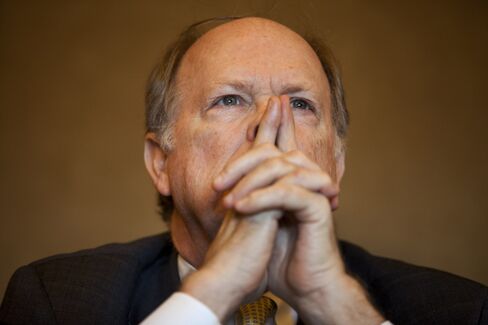 Federal Reserve Bank of Philadelphia President Charles Plosser urged the Federal Open Market Committee to improve its public communication on policy by clarifying the likely path of the target interest rate.
"One way to enhance its communication would be to indicate the likely behavior of interest rates" based on policy rules, indicating whether the Fed will be more "restrained" or "accommodative," Plosser, who votes on policy this year, said today in a speech in New York.
FOMC participants' quarterly forecasts for the main interest rate can be a source of confusion. Fed Chair Janet Yellen at a March 19 news conference cautioned against giving too much weight to the forecasts of Fed officials, saying the FOMC statement is a more reliable signal of the central bank's intent. Atlanta Fed President Dennis Lockhart has called for "some way of coordinating" policy intentions with a forecast.
Plosser said a rules-based approach to setting the benchmark interest rate, along with an accompanying policy report, would help clarify how the FOMC will respond to various changes in economic data.
"This type of communication would push the FOMC to conduct policy in a more systematic manner, which I believe will lead to better economic outcomes over the longer run," Plosser said in his prepared remarks to the Council on Foreign Relations.
In comments to reporters after his speech, Plosser said the housing market continues to recover, though it's not "quite as robust as it was last year."
"Just because housing starts are slower or sales are slower, that doesn't mean the housing market is weak, because that's not consistent with a continued increase in prices," he said. "I'm not panicky about the housing market."
A former professor and dean of the business school at the University of Rochester in New York, Plosser joined the Philadelphia Fed as its chief in 2006.
Before it's here, it's on the Bloomberg Terminal.
LEARN MORE