Consumer Comfort in U.S. Cools From Second-Best Level Since 2008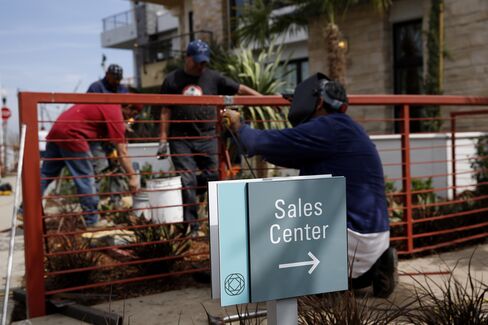 Consumer confidence last week held near the second-highest level in more than six years as households remained upbeat about their finances.
The Bloomberg Consumer Comfort Index eased to 37.1 for the week ended May 4 from 37.9 the prior week. The gauge has held above 37 for three straight weeks, the best performance since January 2008.
The recent pickup comes as employment prospects improve, helping keep consumers' views of their financial situations close to a six-year high. While such optimism will probably underpin personal spending, higher gasoline prices are leaving Americans less optimistic about the economy.
"Consumer confidence is holding up quite well, and looks to improve in the middle portion of 2014," said Joseph Brusuelas, a senior economist at Bloomberg LP in New York. As firings ease, "a sense of security in their own personal finances has crept back into American households."
The labor market showed more signs of gaining traction after figures today showed initial jobless claims fell more than forecast last week. Applications of unemployment benefits dropped by 26,000 to 319,000 in the period ended May 3, according to the Labor Department. The median estimate in a Bloomberg survey called for 325,000 claims.
Stocks fluctuated as technology stocks declined and investors speculated on the timing of possible stimulus moves in Europe. The Standard & Poor's 500 Index rose 0.1 percent to 1,880.45 at 9:40 a.m. in New York.
Component Breakdown
The Bloomberg gauge of personal finances was little changed at 54 last week from 54.2 the prior period, which was the strongest since April 2008. The buying climate measure, which asks whether this is a good time to make purchases, stood at 34.5. That's second only to the prior week's reading of 35 as the highest since November 2007.
Views on the national economy fell to a three-month low of 22.9 from 24.5 in the prior week.
Job growth may galvanize optimism. Payrolls rose 288,000 last month, the biggest increase in two years, while the jobless rate fell to MATCH the lowest since September 2008, according to a May 2 Labor Department report.
Property values have also been rising, making households feel wealthier. Home prices in 20 U.S. cities increased 12.9 percent from February 2013 after a 13.2 percent gain in the year ended in January, according to an index from S&P/Case-Shiller on April 29.
Purchases Climb
Improvements in the labor and housing markets are helping underpin the consumer spending that makes up almost 70 percent of the economy. Purchases climbed 0.9 percent in March, the most since August 2009, following a 0.5 percent gain in February that was larger than previously estimated. Incomes increased by the most in seven months, Commerce Department figures showed last week.
MasterCard Inc., the second-biggest payments network, attributed buying to improved consumer sentiment after reporting profit that beat analyst estimates for the first quarter.
"Consumers continue to spend more in some interesting sectors, like airlines, lodging, restaurants, furniture and furnishings," Ajaypal Banga, the company's chief executive officer, said on a May 1 earnings call. "That reflected the increased consumer confidence we saw in the quarter."
Today's comfort survey found improved optimism among senior citizens and blacks, who posted their best reading since August. Sentiment among homeowners matched the strongest level since 2007.
Southern Optimism
While confidence cooled among most income groups, those earning less than $15,000 were the most upbeat since March. Sentiment among those living in the South reached the highest level since December 2007.
Gas prices remain elevated. A gallon of unleaded at the pump cost $3.67 on May 7, up from $3.32 at the start of the year, according to data collected by automotive group AAA. At the same time, prices have started to ease after approaching $3.70 at the end of April.
Brusuelas said that a sustained decline in gasoline prices "should provide a tailwind for consumers, who will have a little more discretionary spending power."
This is the second release in which the Bloomberg comfort index has been presented on a scale of zero to 100 rather than the previous minus 100 to 100, with the midpoint shifting to 50 from zero. The change doesn't affect the gauge's components, their relationship to each other or their correlation with other economic indicators. Historical data has been revised and analysis of trends, values and other variables aren't affected.
Before it's here, it's on the Bloomberg Terminal.
LEARN MORE