Muggings Rattle Rio as Brazil's World Cup Nears
Rio de Janeiro will have 2,372 police protect the main stadium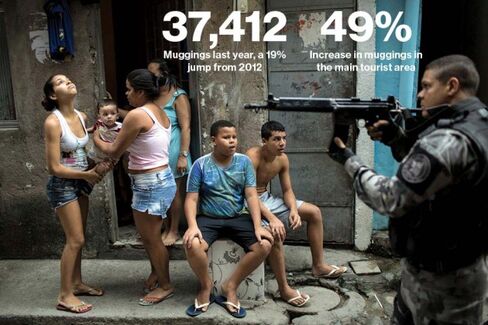 The two boys had knives. So Carlos Guzman handed over his wedding ring, iPhone, and wallet. What really galled him was that the police said they knew where one of the boys lived, yet took no action, in part because he wasn't caught in the act. "They told me I was lucky I didn't offer any resistance, because this kid has been known to stab people, but since he's underage, they can't do anything," says Guzman. "I think it's going to get worse with the World Cup."
Street crime is growing in Rio de Janeiro, Brazil's biggest tourist destination, as police brace for the 400,000 fans expected for the quadrennial World Cup tournament starting on June 12. The lawlessness coincides with a slowing economy and simmering discontent after a decade of increasing peace in the slums, known as favelas, which are scattered throughout the city.
Muggings in Rio last year jumped 19 percent from 2012, to 37,412, according to official figures. That's double the number in New York, although Rio, with 6.3 million people, has about 2 million fewer residents. In tourist areas including the neighborhoods of Copacabana, Flamengo, and Ipanema, where Guzman was robbed, muggings increased 49 percent. Ipanema and Arpoador beaches last year suffered a series of arrastoes, or "big drags," in which gangs sprint through crowds snatching what they can. While TV channel Globo questioned a woman on camera about the muggings, a boy pulled her necklace off; the interviewer took off after him in vain.
Pedro Fernandes, Rio state's secretary for social aid and human rights, says he believes the crime wave stems from greater drug use, especially crack cocaine. Others disagree. Ignacio Cano, a sociology professor at Rio de Janeiro State University, points instead to stubborn poverty in the favelas, home to 1.4 million people, or 22 percent of Rio's population.
Since 2008, police have established 37 so-called pacification units in slums controlled by the city's notorious drug gangs. The pacification process begins with the police, sometimes accompanied by army troops and armored vehicles, taking control and remaining for months, as opposed to the former tactic of lightning incursions to capture criminals and seize drugs.
Brazil's gross domestic product expanded by an annual average of 2 percent from 2011 to 2013, the slowest three-year pace in a decade. The median forecast of economists surveyed by Bloomberg is for 1.8 percent growth this year. From 2006 to 2008, the economy grew at a 5.1 percent annual clip. Rio's economy created 24,211 jobs in the 12 months through March, less than half the number in the same period the year before, according to the Ministry of Labor and Employment.
The slowdown has contributed to a fading sense of opportunity, says Theresa Williamson, executive director of Catalytic Communities, an advocacy group that works in Rio's poor neighborhoods. Electricity and water in the favelas is spotty, garbage collection scant, sewers often open, and education poor, she says. "People only resort to extreme things when they don't have hope, and two or three years ago they were so much more optimistic. The increase in crime is a result of hopelessness."
Rio is still less dangerous than it was in the 1990s, and the recent backslide probably won't affect investment, says James Gulbrandsen, a partner and chief investment officer in Rio for NCH Latin America. "When I got here 17 years ago, it was a completely different place; you couldn't walk outside the hotel in Copacabana at night," Gulbrandsen says. "Now it's anything but that. Yes, it's slow steps, but we are moving forward."
During the World Cup, police plan to secure a perimeter around Maracana stadium, the venue for the final match, and other tourist areas. Seven thousand military police will be deployed. That's no consolation to Sydney Blumstein. Just six hours after she landed in Rio last year, she and a friend were mugged in Copacabana. A week later, two teenagers held them up again near the Lapa Arches, an 18th century aqueduct and tourist attraction. "It was like seeing something with your own eyes that you've heard about and don't believe until it happens," says Blumstein, a Manhattan real estate broker who has visited 37 countries. "I've told everyone who's asked me about Brazil: Don't bring anything too precious, because there's a good chance you won't be taking it home."
After Blumstein and her friend were mugged the second time, at knifepoint, police apprehended the boys and, at the tourists' request, released them in exchange for their camera. They let the boys keep the money and even gave them a bit more. " 'Our life is really hard,' " Blumstein recalls one of the boys saying. " 'And it looks like these girls have a life that's really easy.' "
Before it's here, it's on the Bloomberg Terminal.
LEARN MORE