Tiger Asia's Hwang Should Get HK Dealing Ban, Panel Told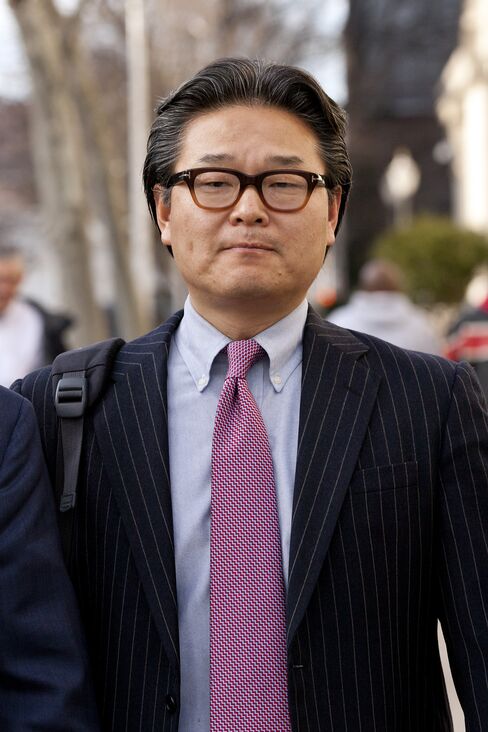 Tiger Asia Management LLC and founder Bill Hwang, who admitted illegally using inside information to trade Chinese bank stocks, should be banned from dealing in Hong Kong for as long as five years, an inquiry was told.
Raymond Park of the New York-based hedge fund should also be banned, Simon Westbrook, a lawyer for Hong Kong's Securities and Futures Commission, told Hong Kong's Market Misconduct Tribunal today.
Tiger Asia, which has been renamed Archegos Capital Management LLC and turned into a family office, agreed to pay HK$45.3 million ($5.8 million) to Hong Kong investors affected by the trades and $60.3 million in U.S. criminal and civil settlements after a legal battle that began in 2009. The fight with Hong Kong's regulator included a failed bid to challenge the commission's power to sue to recover investors' losses. Hwang and Park are with Archegos.
"The potential still exists for market misconduct," even though the hedge fund has become a family office, Westbrook said. Tiger Asia's "systematic abuse" was an aggravating feature of the cases he said, and rejected the claim that they were isolated incidents.
The ban, known as a cold shoulder order, is intended to protect the investing public, not to punish persons for misconduct, Peter Duncan, the lawyer for the Tiger Asia parties said. In SFC's case, "they are hallmarks of the punishing regime, not the protection regime," Duncan said.
A trading ban on Tiger Asia, Park and Hwang would be "unduly harsh and oppressive," Duncan said.
Shorting Trades
Tiger Asia told investors in August 2012 it would return capital to outside investors due largely to its "legal situation."
Tiger Asia received advanced information on UBS AG's sale of 3.4 billion Hong Kong-listed shares of Bank of China Ltd. in December 2008 after agreeing not to trade on the knowledge, the SFC said in a July filing with the tribunal.
Under Hwang's direction, it shorted the stock ahead of the share placement, making a HK$9.1 million profit after transaction costs, the regulator said. Shorting involves selling borrowed shares and buying them back later as their prices fall for a profit.
Tiger Asia also acted on such information regarding a Bank of America Corp. sale of China Construction Bank shares in January 2009, the SFC said. It netted HK$32 million through long and short trades. Part of the trades could also depress the closing price of the bank's stock so that it could buy shares in the placement at a lower price, according to the filing.
Tiger Asia further traded on insider information of a Royal Bank of Scotland Group Plc sale of shares in Bank of China the same month, on which it made a HK$10.3 million loss, it added.
Hwang, who previously worked as an institutional stock salesman at Hyundai Securities Co. with Julian Robertson's Tiger Management LLC., was hired by the billionaire hedge-fund manager in 1995 after winning a prize for the person outside of Tiger who had contributed most to the its success.