Swiss Re Beats Estimates as Non-Life Profit Is Resilient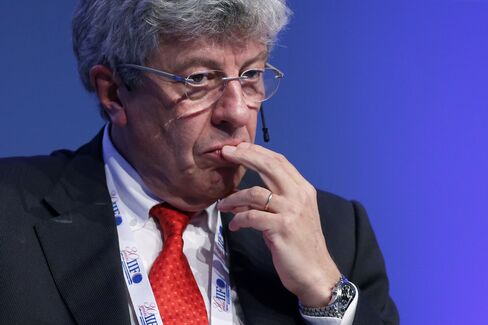 Swiss Re Ltd., the world's second-biggest reinsurer, exceeded analysts' estimates in the first quarter as resilient earnings in its non-life business mitigated the decline its life and health unit.
Net income slipped 11 percent to $1.23 billion in the three months through March, from $1.38 billion a year earlier, the Zurich-based company said in a statement today. That compared to a $1.12 billion average estimate of eight analysts surveyed by Bloomberg.
"We are making good progress in strengthening the underlying business" in life and health, Chief Executive Officer Michel Lies said in the statement, noting the result of the unit still "is below expectations."
Swiss Re is revamping its life and health business to boost earnings at the unit that was its least profitable last year. The measures, which include renegotiating the terms of an underperforming U.S. portfolio, are meant to double the unit's return on equity to between 10 percent and 12 percent by 2015 and will cost about $500 million before tax this year.
"The result is positive, almost entirely driven by the property and casualty reinsurance result," said Daniel Bischof, a Zurich-based analyst with Helvea who has a hold rating on the stock. "The usual suspects, higher than expected reserve releases and realized gains, are the main factors."
Swiss Re traded 0.2 percent higher at 77.15 Swiss francs by 9:11 a.m. in Zurich, valuing the company at 28.5 billion Swiss francs ($32.6 billion). The 33-company Bloomberg Europe 500 Insurance Index was down 0.4 percent.
Premiums Rise
Non-life premiums earned during the quarter rose 7.9 percent to $3.81 billion while net income for the unit was almost unchanged at $1 billion. The first quarter benefited from 5.7 percentage points from prior year net reserve releases, down from 8.2 percentage points, Swiss Re said.
The combined ratio, a measure of profitability in property and casualty reinsurance, worsened to 78.8 percent, compared with 69.7 percent a year earlier, when it was pushed down by reserve releases and lower-than-expected claims due to the absence of major man-made or natural catastrophes.
Swiss Re said its return on investments increased to 3.7 percent from 3.4 percent, driven by the sale of equities. The company booked net realized gains of $234 million.
The renewals in April, the second major contract renewal date, saw further price drops of about 5 percent, driven by prices for natural catastrophe cover, where Swiss Re wrote less new business while it's expanding into casualty lines.
Swiss Re's German competitors Munich Re and Hannover Re both said in their first-quarter results that reinsurance rates are under pressure. Hannover Re said today net income was little changed in the quarter, while Munich Re, the world's biggest reinsurer, last week said its profit declined 7 percent.
The reinsurer named Patrick Raaflaub, the former head of Swiss financial market supervisor FINMA, as chief risk officer.