Six Reasons JetBlue's CEO Probably Won't Stick Around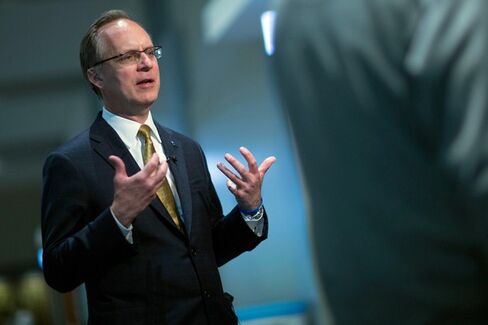 When his contract ends in February, Dave Barger, JetBlue Airways' chief executive, will probably be ready for a vacation. Barger, 56, is considering leaving in the new year, according to a report in Bloomberg News. At least that's how JetBlue director Ann Rhoades sees it: "I'd be crazy to tell you he isn't obviously thinking about it," the veteran human resource executive told my Bloomberg colleague Mary Schlangenstein. JetBlue did not return a call today seeking comment.
If Barger ends up leaving the airline, here are six big factors driving his departure:
1. Investors aren't pleased. The U.S. airline industry has been financially rejuvenated over the past six years, with bankruptcy reorganizations and mergers all the rage. Yet the flush times have not arrived for JetBlue, which has paled next to the financial firepower displayed by most of its peers. JetBlue shares are down 21 percent since Barger took over in May 2007 and 54 percent over the past decade. In a note upgrading JetBlue earlier this month, JPMorgan analyst Jamie Baker noted the short time left on Barger's contract as a positive for the stock.
2. The board wants a smooth transition. The first—and only—time JetBlue switched CEOs, it ousted the airline's founder, David Neeleman, following an operational meltdown in February 2007. The storm's effect on JetBlue "mortified" Neeleman, who recorded a video apology and went on David Letterman's TV show with further mea culpas. The board concluded that Neeleman was a visionary entrepreneur but not a great operations guy and talked him into stepping aside—a process that was far from graceful. Neeleman remains angry still and doesn't hesitate publicly to criticize JetBlue's management team. As a result, JetBlue's board wants a nice, quiet, coordinated succession whenever Barger leaves. The end of his contract provides such an occasion.
3. Barger doesn't come cheap. JetBlue directors set his base salary at $600,000 but have continued to award him generous stock grants. Barger's compensation has surged from $1.6 million in 2011 to $3.1 million last year, mainly because of JetBlue's revenue growth and sustained (if relatively small) profit over the past five years. But the industry has changed dramatically, and JetBlue's performance-compensation metrics appear archaic to most analysts, who consider Barger overpaid for what his tenure has brought: higher costs and negative stock returns.
4. He's not a union guy. True, few airline executives love collective bargaining agreements, but Barger is decidedly among the least enamored of having a union in his company. Less than a month ago, JetBlue's 2,500 pilots voted to join the Air Line Pilots Association even after Barger agreed to a 20 percent wage hike in a bid to stave off the union. The company had successfully avoided that fate twice before, but the third time was no charm for Barger, who spoke of his personal disappointment with the outcome. And the pilots may not be the last, as other unions hope to organize other JetBlue work groups.
5. The prospect of a merger looms. One of the industry's favorite "What if?" games involves predicting potential JetBlue buyers. As the Big Four airlines consolidated their market dominance, carriers such as JetBlue and Virgin America are now considered odd ducks. Where do they fit in? How do they work financially if jet fuel prices surge the way they did in 2008? The large feeder traffic JetBlue carries into New York's major international airport, JFK, could be a valuable asset for a larger airline. Barger was around at JetBlue's birth in 1999 and doubtless he considers the airline his baby. It's not easy to see him as the CEO who would sell it.
6. It's been a long flight. In the airline business, 15 years is akin to an eternity, and seven serving as CEO is a tough grind, considering the complexity of such an operation. Even if investors loved him, Barger is probably ready for a new challenge—if not a long rest.
Before it's here, it's on the Bloomberg Terminal.
LEARN MORE