Siemens Doubles Down on U.S. Energy as GE Targets Europe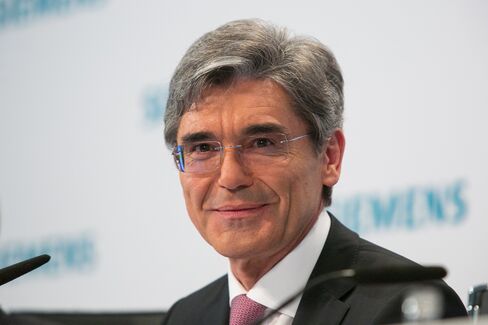 As General Electric Co. tries to grow in Siemens AG's regional turf with a $17 billion offer for Alstom SA's energy unit, Europe's largest engineering company wants to move the battleground back across the pond.
Munich-based Siemens must do more to capitalize on surging demand for shale gas and oil equipment in the U.S., Chief Executive Officer Joe Kaeser said yesterday, referring to his $1.3 billion purchase of Rolls-Royce Holdings Plc's gas turbine and compressor business and the replacement of his energy operations head with a U.S.-based executive from Royal Dutch Shell Plc.
"In the U.S., all roads lead to gas," 56-year old Kaeser said at a press conference in Berlin, citing a rising use of fracking, which helps to tap shale gas reserves. "When we talk about fracking, you don't just talk about drilling it, but also how you liquify and transport it, and 75 percent of that market is in the U.S. and Canada."
Siemens, which already makes gas turbines and equipment to distribute power, is adding energy offerings as new drilling techniques involving fracking spark an U.S. energy renaissance that helped the country surpass Saudi Arabia and Russia as the world's largest producer of oil and natural gas. As part of Kaeser's focus on the energy business, Siemens is also preparing an offer to get control of Alstom's energy unit and block GE's expansion in Europe.
Fighting Back
Lisa Davis, a 50-year old U.S. executive at Shell, will move to Houston to take up a board role heading up Siemens's energy operations from Aug. 1. She's a chemical engineer by training who has spent her whole career in the oil and gas industry with jobs at Chevron Corp., Exxon Mobil Corp. and Texaco Inc. before Shell. Michael Suess, her Munich-born predecessor, has stepped down after declining to move to the U.S., according to Kaeser.
"We have lost the active penetration, the active strategy development" in the American market, Kaeser told journalists after a press conference in Berlin. "We have to win that back with a strategic presence in the U.S."
Siemens shares fell 0.1 percent to 95.73 euros as of 10:43 a.m. in Frankfurt. That extends the decline this year to 3.6 percent, valuing Siemens at 84 billion euros.
Shale Gas
Siemens's proposal to buy Alstom's energy business will probably entail swapping some of its rail assets for the French company's energy division and creating two European leaders in their respective fields, people familiar with the matter have said. Siemens would become one of the world's largest manufacturers of equipment for power plants and electric transmissions.
Other energy deals may follow. Siemens had been evaluating an acquisition of Dresser-Rand Group Inc., the Houston-based oilfield equipment maker, since as early as 2011, people familiar with the plans told Bloomberg last year. The Siemens board meanwhile visited the U.S. early last year to assess new opportunities to capitalize on the boom in shale gas, Eric Spiegel, the head of U.S. operations, told Bloomberg Television in a 2013 interview.
Still, while GE bought Dresser-Rand rival Lufkin Industries Inc. for about $3.3 billion in April 2013, it took Siemens until this month to secure a deal in the oil and gas segment, buying Rolls-Royce's energy aero-derivative gas turbine and compressor business. Rolls-Royce's energy systems are based in Mount Vernon, Ohio.
Portfolio Gap
"Siemens really had a portfolio gap to target the fracking industry," said Commerzbank analyst Ingo-Martin Schachel. "After the Rolls-Royce deal they are pretty complete."
While cutting jobs at its Berlin turbine factory, Siemens has added more than 1,000 positions at its plant in Charlotte, North Carolina as the shale boom drives demand for gas turbines. The U.S. is Siemens's biggest national market, generating $19 billion of the company's $100 billion in sales.
Kaeser's predecessor, Peter Loescher, was ousted after cutting profit targets five times in his six-year tenure amid costs for mismanaged projects at 167-year old Siemens, which currently makes everything from trains and gas turbines to medical scanners and factory-automation gear. Kaeser decided to operate the health-care division -- which was a cornerstone of Loescher's strategy -- as a separate business within Siemens.
Operational Risks
Siemens and Alstom yesterday both reported earnings that missed estimates on charges for large infrastructure projects and reorganizations, highlighting the pitfalls of a potential deal. While adding energy assets may bring Kaeser closer to his goal to boost profit long term, it might prove challenging to combine businesses that carry out big infrastructure works with political, financial and operational risks.
Siemens posted 310 million euros in second-quarter charges related to power transmission projects. Alstom booked 220 million euros in full-year restructuring costs, up from 137 million euros a year earlier. Siemens has posted charges totaling 808 million euros since 2011 relating to delays in linking offshore wind farms in the North Sea to the grid. Charges for delayed train deliveries have also trimmed hundreds of millions of euros from profit since 2011.
While Kaeser is working to reverse Loescher's work, some investors are wary of yet another strategy change and say the CEO may be better off focusing on improving the management of major orders and infrastructure projects.
"Every new Siemens CEO is under pressure to come up with a new amazing strategy, and as a result, some businesses are sold and others are bought," said Boris Boehm, who helps manage about 2.1 billion euros, including Siemens shares, at Aramea Asset Management. "But Siemens's profitability is not necessarily trailing GE and ABB because of its strategic set up, it also has fallen behind because others are better at managing the day-to-day business."