Productivity of U.S. Workers Decreased in the First Quarter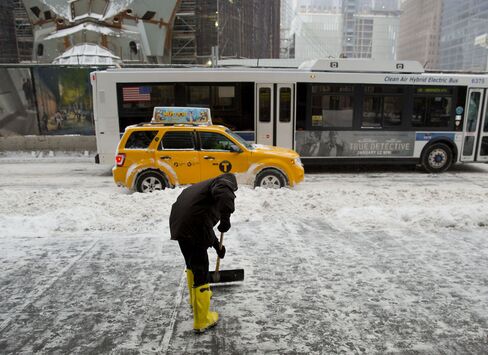 American workers were less productive in the first quarter as harsh winter weather prevented some from getting to their jobs, causing the economy to stall.
The measure of employee output per hour dropped at a 1.7 percent annualized rate, the weakest reading in a year, after rising at a 2.3 percent pace in the last three months of 2013, a Labor Department report showed today in Washington. The median forecast in a Bloomberg survey of 59 economists called for a 1.2 percent drop. Unit labor costs climbed at a 4.2 percent rate, more than estimated.
The pullback in productivity came as snow and unusually cold weather covered much of the U.S., depressing economic activity as consumers stayed indoors and companies put off investment plans. As growth recovers in the months ahead, some companies may be induced to either take on more workers or invest in equipment to keep up with demand.
"All the things that held down GDP, including weather and slower foreign demand," also hurt productivity, said Richard Moody, chief economist at Regions Financial Corp. in Birmingham, Alabama, who correctly forecast the decline in output per hour. "You can get quarterly swings like this, but what's more important is the underlying trend, and productivity growth has been slowing for a while."
Growth Potential
Productivity is important because it helps determine the pace at which an economy can grow without stoking inflation, which economists term its speed limit. That reflects the rate of growth of the labor force plus how much each worker can produce. Smaller gains in productivity therefore mean advances in gross domestic product will also be restrained.
Stocks rose, after the Standard & Poor's 500 Index fell by the most in three weeks, as investors weighed corporate earnings and congressional testimony from Federal Reserve Chair Janet Yellen. The S&P 500 climbed 0.2 percent to 1,872.17 at 10:05 a.m. in New York.
Yellen told the Joint Economic Committee of Congress that the Fed must continue to spur economic growth as indicators for inflation and employment remain far from the central bank's goals.
"A high degree of monetary accommodation remains warranted," Yellen said. "Many Americans who want a job are still unemployed," and consumer price gains are below the Fed's target, she said.
Productivity Estimates
Economists' estimates for productivity ranged from a 1.8 percent decline to a gain of 0.3 percent. The prior quarter's reading was previously reported as an increase of 1.8 percent.
Over the past year, productivity increased 1.4 percent, the same as in the 12 months ended in December.
Last quarter's increase in expenses per worker, which are adjusted for efficiency gains, was the biggest since the last three months of 2012. Costs were forecast to rise 2.8 percent last quarter, according to the Bloomberg survey median.
Unit labor costs were up 0.9 percent compared with the first quarter of 2013.
Adjusted for inflation, hourly earnings increased at a 0.5 percent rate in the first quarter after rising at a 0.6 percent pace the previous period.
Output rose at a 0.3 percent rate, following a 3.8 percent jump in the fourth quarter.
Hours Worked
Hours worked climbed at a 2 percent pace after a 1.4 percent increase in the prior period. Compensation for each hour worked climbed at a 2.4 percent annual pace.
Manufacturers fared better than the economy as a whole, with worker productivity increasing at a 3.3 percent rate.
U.S. economic growth nearly ground to a halt in the first quarter as harsh winter weather chilled business investment, exports dropped and inventories climbed at a slower pace. Gross domestic product grew at a 0.1 percent annualized rate from January through March, compared with a 2.6 percent gain in the prior quarter, figures from the Commerce Department showed last week.
One positive from slower productivity growth is that companies will need to take on more staff as the economy improves. Payroll rose by 288,000 in April following a 203,000 rise the prior month, according to last week's Labor Department report. An index measuring the share of industries hiring climbed to 67, the highest level since January 2012.
Productivity Outlook
"The flip side of this is if we do see demand pick up the way I think we're going to, firms have to take on more workers because to some extent, they've squeezed pretty much all the productivity gains they can out of their workforces," said Moody at Regions Financial.
Central bankers after a meeting last week said the economy is showing signs of picking up and the job market is improving. The Federal Reserve's Open Market Committee pared its monthly asset-buying to $45 billion, its fourth straight $10 billion cut, and said further reductions in "measured steps" are likely.
Aside from the quarter-to-quarter wiggles, productivity gains have been slowing as companies curbed spending on more sophisticated machinery and time-saving devices such as faster computers that help boost output. From 1995 through 2000, worker output per hour rose 2.8 percent a year on average, according to figures from the Labor Department. It rose 0.5 percent in 2013.
"Productivity has been low for the last several years and that's been reflected in a moderate pace of overall economic growth," Ryan Wang, an economist at HSBC Securities USA Inc. in New York, said in an interview before the report. "Despite quarterly fluctuations, so far it still looks as if productivity growth is remaining slower than in prior economic expansions."