High School Seniors in U.S. Fail to Show Reading, Math Progress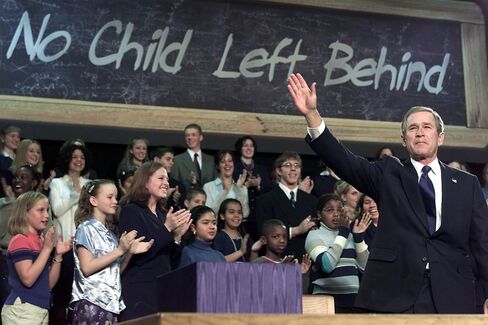 U.S. high school seniors, whose school years have encompassed the sweeping education initiatives of two presidents, failed to demonstrate improvement in math or reading on a national exam.
Only 38 percent of those tested in 2013 scored as proficient readers on the National Assessment of Educational Progress, known as the "Nation's Report Card," released today by the Education Department. Three-quarters failed to show math proficiency. The scores were little changed from 2009, when the test was last given.
"Stagnation is unacceptable," David Driscoll, chairman of the board that administers the test, said in a statement. "Achievement at this very critical point in a student's life must be improved to ensure success after high school."
The seniors were in the first grade when President George W. Bush signed No Child Left Behind into law. The program called for schools to demonstrate yearly progress and to show that all students are proficient on state standardized tests by 2014. Most states have received waivers under President Barack Obama, whose Race to the Top program has pledged $4.35 billion in state grants in four years to boost education standards.
The Nation's Report Card shows what students know in various subject areas and compares achievement data among states and demographic groups. Tests are also given in science, history and other subjects. Just 12 percent of 12th-graders were proficient in American history, according to a 2011 report.
Common Core
The results paint a similar picture to that of SAT college entrance exam performance. The high school class of 2013 showed no improvement from the previous year and fewer than half of the test takers were prepared for college-level work, according to the College Board, owner of the SAT. Concerns about academic performance of U.S. students propelled education industry and political leaders to create the Common Core State Standards Initiative, which has become controversial as states balk at increased government intervention in education.
The 2013 reading and math results are based on a nationally representative sample of students in the 12th grade. More than 92,000 students were assessed in either math or reading.
Asian/Pacific Islander students scored the highest in math, with 47 percent proficiency, followed by 33 percent of white students. Those two groups also tied at 47 percent in reading.
The achievement gap between black and white students has remained steady at about 30 points in math from 2005 to 2013. The score gap between blacks and whites in reading widened by 5 points from 1992 to 2013.
Minority Students
Education Secretary Arne Duncan said the U.S. must do better for its students, especially African-American and Latino pupils.
"Despite the highest high school graduation rate in our history, and despite growth in student achievement over time in elementary school and middle school, student achievement at the high school level has been flat in recent years," Duncan said in a statement. "Just as troubling, achievement gaps among ethnic groups have not narrowed. "
In a pilot program, 11 states began reporting their scores in 2009. Arkansas, Connecticut, Idaho and West Virginia reported higher scores in math in 2013. In reading, students in Arkansas and Connecticut scored higher than four years previously.
The exam also asked the 12th-graders about their level of math skills and if their math classes were "engaging and interesting." Students who performed higher in math took more challenging courses, including calculus.
Students who said they enjoyed learning scored higher in reading and math. Those who said they discussed what they read every day or almost every day also fared better on the exam.
"Many factors inside and outside the classroom contribute to student performance, and it is incumbent upon everyone in the education community to find ways to foster academic improvement in the years to come," said Driscoll, a former commissioner of education in Massachusetts.
Before it's here, it's on the Bloomberg Terminal.
LEARN MORE