As More Supermarkets Go Premium, Whole Foods Tries to Go Budget
Investors were not impressed that Whole Foods Market cut its forecast for the third time yesterday. It now expects sales in fiscal 2014 to increase 10.5 percent to 11 percent, compared with a previous forecast of 11 percent to 12 percent, and same-store sales to expand 5 percent to 5.5 percent, vs. 5.5 percent to 6.2 percent previously. The news caused the biggest decline in the stock in more than seven years.
The main problem is increasing competition as other grocers, such as Kroger, Wegmans Food Markets, and HEB Grocery, carry premium products marketed to the health and sustainability-minded consumer. Whole Foods' response: to continue opening new stores and gradually lower prices. By 2018, it expects to have 575 stores, compared with the current 379.
In other words, as mainstream grocers borrow parts of Whole Foods' high-end image, Whole Foods, which earned the nickname "Whole Paycheck" for its high-priced goods, is pursuing a more affordable strategy.
The chain has already lowered prices, which in part is affecting comparable store sales (a year-over-year comparison of sales at Whole Foods stores), executives said during an earnings call on Tuesday. Most of the reductions have come in packaged goods, such as Whole Foods' 365 Everyday Value products, and the chain is now focusing on lowering prices for fresh produce.
Once the price reductions have settled, the company says comparable sales should rise again, assuming volume increases. "When you lower a price, the first impact is it lowers your comps as you're selling the same amount of product for the most part at a lower price. So your sales are slightly lower. Over time, though, as people come to see that, you'll hopefully get a lift on that item as people purchase more of it, and the overall perception of your basic price value ratio is improved, and it helps your overall sale," Co-Chief Executive John Mackey said during Tuesday's earnings call.
Whole Foods expects comparable store sales growth of 6 percent every year from fiscal 2015 to fiscal 2018, as it reported in its "strategic vision."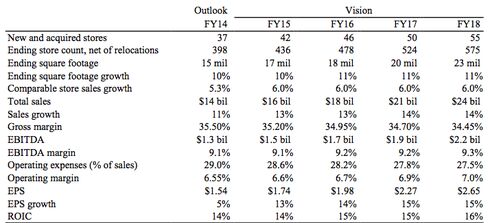 Before it's here, it's on the Bloomberg Terminal.
LEARN MORE