U.K. Services Grow More Than Forecast as Employment Picks Up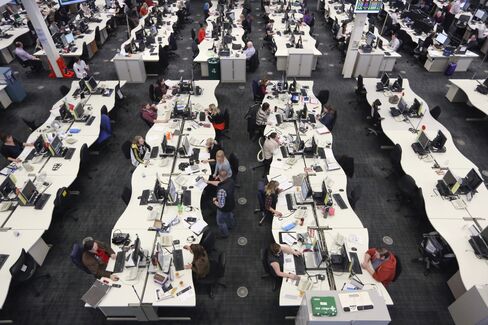 U.K. services grew at the fastest pace in four months in April as employment and new business picked up, pointing to continuing momentum in Britain's recovery.
A Purchasing Managers' Index increased to 58.7 from 57.6 in March, Markit Economics said in London today. The median of 29 estimates in a Bloomberg News survey was for a reading of 57.8. The index has been above the 50 level that divides expansion from contraction since the start of last year.
While Bank of England policy makers meeting this week will probably keep their key interest rate at a record low, the improving data raises the prospect of an increase in borrowing costs as soon as this year. Separate Markit indexes last week showed manufacturing growth accelerated in April and construction expanded.
"There's no end in sight for the current super-strong growth spell," said Chris Williamson, an economist at Markit. The data "suggest that the discussion among policy makers about when interest rates will need to start rising will heat up."
The pound rose 0.7 percent to $1.6990 as of 1:50 p.m. London time, the highest since August 2009.
Economic Growth
Markit's indexes for April suggest the economy grew at least 0.8 percent in the second quarter, Williamson said. Official data last week showed gross domestic product expanded by that amount in the first quarter, up from 0.7 percent in the final three months of 2014.
The Organization for Economic Cooperation and Development raised its 2014 U.K. growth forecast today. It now sees expansion of 3.2 percent, compared with 2.4 percent in November. In 2015, output will grow 2.7 percent.
Markit's composite index rose to 59.2 in April, the highest level since November, from 57.8 the previous month. A gauge of employment in the services industry jumped to 56 from 53.5.
"Companies kept on top of workloads by adding to their payroll numbers, reflective in part of sustained confidence in the economic outlook," Markit said in the report.
Output prices increased for an 11th consecutive month in April, while input costs fell to the weakest level in a year. Many companies said wages contributed to higher operating costs.
Central bank officials will make their first decision this week after a drop in the unemployment rate below 7 percent voided their first phase of monetary policy guidance. They're now in a second phase, where they've pledged to maintain current stimulus settings until they see evidence that more slack in the labor market has been used up.
All 50 economists in a Bloomberg News survey forecast the nine-member Monetary Policy Committee will keep the key rate at 0.5 percent. The central bank will announce the decision at noon in London on May 8.