Thai Court to Rule on Yingluck Case That Threatens Removal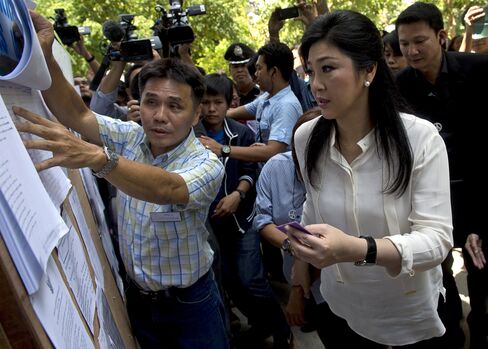 May 7 (Bloomberg) -- Thai Prime Minister Yingluck Shinawatra may be removed from office if the nation's Constitutional Court today rules she abused her position by transferring a top security official, a verdict that would deepen the nation's political crisis.
The court will probably deliver its ruling after 12 p.m. Bangkok time. The impact of a decision to oust Yingluck "will depend on how fast and with what sort of regime she is replaced," said Michael Montesano, a visiting research fellow at the Institute of Southeast Asian Studies in Singapore.
If her ministers are allowed to stay in place, one of them may become the new premier, Montesano said. The removal of her entire cabinet from office, "would make the situation far more dangerous" because whatever government then replaced Yingluck might be viewed as lacking legitimacy, he said.
Yingluck, 46, is accused of abusing power to benefit a relative by removing the National Security Council secretary-general from office in 2011. A lower court earlier ruled the transfer was illegal and ordered the government to reinstate the official.
Opponents of Yingluck have rallied for months, demanding she make way for an unelected government that would rewrite the nation's political rules to remove her family's influence. During this period, courts and watchdog agencies have moved forward with cases filed by the opposition that might push Yingluck from office.
Anti-government protesters have said a verdict removing Yingluck would create the political vacuum they need to install their unelected government.
Stocks Fall
The benchmark SET Index fell 0.9 percent to 1,391.67 as of 10:34 a.m. in Bangkok, poised for its lowest close in almost a month, after declining 1.2 percent yesterday. The baht dropped 0.1 percent to 32.385 per dollar.
Investors are "nervously awaiting" the court decision, Koraphat Vorachet, an investment strategist at Capital Nomura Securities, said by phone from Bangkok.
Political uncertainty is "the main cause for higher downside risks to growth," the Bank of Thailand said in the minutes of its April 23 monetary policy meeting, released today.
"There is cooperation between some political parties, the PDRC and some agencies under the constitution to perform a new form of coup by destroying democracy, obstructing elections, and acting with bias and injustice," Yingluck's Pheu Thai Party said in a statement yesterday. The protesters have named themselves the People's Democratic Reform Committee.
Red Shirts
Yingluck's removal and any attempt to replace her with an appointed prime minister would enrage her mainly rural supporters among the so-called Red Shirts. Leaders across the political spectrum, as well as the army chief, have warned a politically-divided Thailand is at risk of civil war. Political violence has killed at least 25 people since October.
Red Shirt leader Jatuporn Prompan said government supporters would rally in Bangkok on May 10 "to show our power that we don't accept any move against the constitution."
Thailand has had a caretaker government with limited powers since December, when Yingluck dissolved parliament and called elections in a bid to end the protests. The February poll was invalidated by a court on the grounds the vote did not take place across the country on the same day, something that wasn't possible as protesters blocked voting in some areas.
Election Boycott
The government and the Election Commission have agreed to hold a fresh poll on July 20, though a decree has yet to be submitted for royal approval. The main opposition Democrat Party has threatened to boycott that vote, as it did in February, and has urged the government and protesters to accept its reform plan. That plan would see Yingluck step down, the poll delayed and the creation of a reform committee comprised largely of anti-government groups, including the protesters.
The protesters, a mix of Bangkok's middle class and southerners led by former Democrat politician Suthep Thaugsuban, accuse Yingluck of being a puppet of her brother Thaksin Shinawatra, the former prime minister who was ousted in a 2006 coup amid anti-government protests and lives in exile to avoid jail for a corruption conviction. They accuse the Shinawatras of crony capitalism, abuse of power and using populist policies to secure the support of rural voters.
The protesters say no elections should be held until the political system is revamped to make sure Thaksin and his allies can never win another election. Thaksin-allied parties have won the past five ballots, while the Democrats haven't won a poll in more than two decades.
Court Rulings
A ruling ousting Yingluck would fuel allegations from Red Shirts that the nation's courts and watchdog agencies are biased against them. The institutions were given increased powers under the 2007 constitution, which was written by a panel appointed by the junta that seized power in the coup.
A military-appointed court in 2007 disbanded Thaksin's Thai Rak Thai party for breaking election laws, banning him and more than 100 party executives from politics for five years.
Amid the seizure of Bangkok's airports by anti-government protesters in 2008, the Constitutional Court found Thaksin's allies guilty of vote buying, disbanding their party and banning another 30 executives, including then-Prime Minister Somchai Wongsawat, Thaksin's brother-in-law.
That ruling, which came just weeks after the court ordered Thaksin ally Samak Sundaravej to step down as prime minister for hosting a cooking show, opened the door for the Democrats to take control of the government in a parliamentary vote that the Red Shirts refer to as a judicial coup.
Military Crackdown
More recently, a court ruled in November that an attempt by ruling party lawmakers to return the Senate to a fully-elected body was a bid to overthrow democracy. In February, a lower court stripped the government of many of the powers provided by a state of emergency called to deal with the protests.
Red Shirt demonstrations calling for new elections in 2009 and 2010 were put down by the military, the latter resulting in more than 90 deaths. Suthep, deputy prime minister at the time, faces murder charges for allowing soldiers to use live ammunition against protesters in 2010.
To contact the reporters on this story: Chris Blake in Bangkok at cblake28@bloomberg.net; Suttinee Yuvejwattana in Bangkok at suttinee1@bloomberg.net
To contact the editors responsible for this story: Rosalind Mathieson at rmathieson3@bloomberg.net Dick Schumacher