Kevin Durant Named NBA Most Valuable Player; LeBron James Second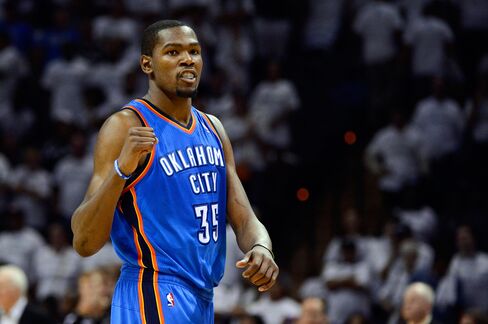 May 6 (Bloomberg) -- Kevin Durant of the Oklahoma City Thunder was named the National Basketball Association's Most Valuable Player, keeping LeBron James from three in-a-row and his fifth overall.
James of the Miami Heat was second in balloting by media members. Durant received 119 first-place votes and finished with 1,232 points. James had six first-place votes and 891 points.
Third was Blake Griffin of the Los Angeles Clippers followed by Chicago's Joakim Noah and Houston's James Harden.
It's the first MVP Award for Durant, who averaged a league-leading 32 points to go along with 7.4 rebounds and 5.5 assists this season.
To contact the reporter on this story: Scott Soshnick in New York at ssoshnick@bloomberg.net
To contact the editors responsible for this story: Michael Sillup at msillup@bloomberg.net Jay Beberman