Kerry Condemns South Sudan Army Seizure of Rebel Town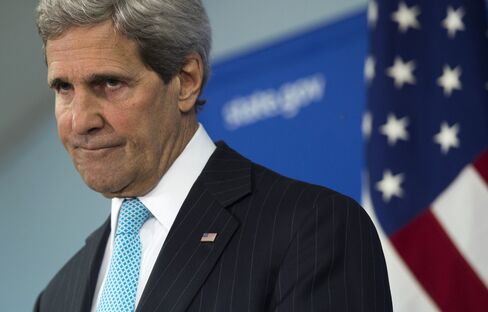 U.S. Secretary of State John Kerry said his government "condemns in the strongest terms" a new offensive by South Sudanese government forces against opposition-held positions.
"These attacks blatantly violate" a January truce, Kerry said yesterday in an e-mailed statement after the forces seized the stronghold of the country's rebel leader and the capital of oil-rich Unity state from insurgents.
Government forces on May 4 retook Unity's capital, Bentiu, and Nasir, the town in neighboring Upper Nile state used as a base by former Vice President Riek Machar, army spokesman Philip Aguer said by phone yesterday from the national capital, Juba. Rebel spokesman Mabior Garang confirmed the army had recaptured the towns.
"It's not a fragile takeover," Aguer said. Nasir is "very crucial because that was the headquarters of Riek Machar." The government expects attacks on the oil-producing state to cease as a result, he said.
Fighting erupted in the world's newest nation on Dec. 15 with President Salva Kiir accusing Machar of leading a coup, a charge Machar denies. Violence has left thousands of people dead and forced more than a million to flee their homes, according to the United Nations.
Kerry, who yesterday completed a trip to Africa that included a stop in South Sudan, has said Kiir and Machar may incur consequences including economic sanctions if they shun direct peace talks being held in neighboring Ethiopia.
Government's 'Unwillingness'
While Kerry continued to press both sides in the conflict to come to the negotiating table, he emphasized in his statement "our disappointment with the government delegation's unwillingness to engage constructively in recent rounds of talks."
South Sudan's army repelled another attack by insurgents on Bentiu yesterday and remained in control of the town, Defense Minister Kuol Manyang Juuk said by phone from Juba. A rebel commander in Unity state, James Koang Chol, didn't immediately answer calls to his satellite phone.
The seizure of Nasir and Bentiu "doesn't mean anything really decisive," insurgent spokesman Garang said earlier by phone from Ethiopia. "They're just battles -- the government has not won the war. They're just controlling the towns and we're in the whole countryside."
South Sudan's oil output has fallen by about a third to 160,000 barrels per day since the violence began, according to the Petroleum Ministry. Machar had vowed to seize oil fields in Upper Nile, the only state still pumping crude, to starve the military of revenue.
Upper Nile produces Dar Blend, a low-sulfur crude that is prized by Japanese buyers as a cleaner-burning fuel for power plants. China National Petroleum Corp., India's Oil & Natural Gas Corp. and Petroliam Nasional Bhd., the main producers of South Sudan's oil, evacuated some employees from the country because of the violence.
Before it's here, it's on the Bloomberg Terminal.
LEARN MORE