Covered Bond Talks Intensify as Bank Liquidity Rules in Play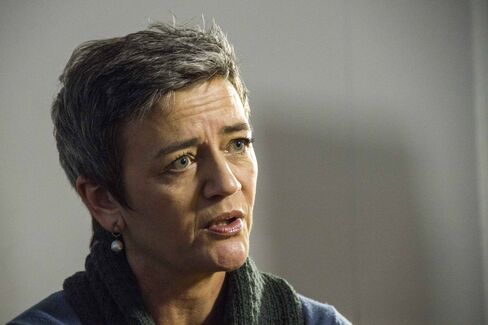 European talks on how to treat covered bonds in banks' liquidity buffers intensified this week as nations with the most at stake fought to ensure Basel III rules don't hobble their markets.
Denmark, home to the world's biggest covered-bond market per capita, is moving closer to winning some concessions from the European Union that would help avert a sell-off of the nation's mortgage-backed securities, Karsten Beltoft, head of the Mortgage Bankers' Federation in Copenhagen, said yesterday.
Covered bond issuers are now waiting for the European Commission to decide whether it will follow a recommendation by the European Banking Authority to cap use of the securities in banks' liquidity buffers at 40 percent. According to Beltoft, there are already indications the cap may be raised to about 60 percent. Danish banks currently use covered bonds to meet about 70 percent of their liquidity needs. The commission is due to announce its decision by next month.
"We're still in the process of finding a solution," Danish Economy Minister Margrethe Vestager said yesterday in Brussels. "Of course, just as well as we feel they understand our concerns, of course we understand theirs as well. And that is of course important in order to find a solution. It's not there yet, but it's a work in progress."
Vestager met with Michel Barnier, the European Union's financial services chief, yesterday to discuss the matter.
Bailed Out
The London-based EBA wants Europe to reserve the top liquidity status for government bonds, even those sold by nations that were bailed out during Europe's debt crisis. Industry representatives argue that treating all sovereign debt as risk-free flies in the face of experience. They also refer to the EBA's own empirical tests, which show covered bonds are as liquid as government securities.
Denmark has signaled it may still push the EU to allow banks to use covered bonds for more than 60 percent of their liquid buffers.
"We think that we have a very good case," Vestager said.
Recognizing the properties of "certain instruments" in liquidity buffers "might help to dilute the sovereign focus," said Niall Bohan, a head of unit in the European Commission dealing with bank and financial conglomerate rules. "The other issue is to look and see whether the liquidity of those instruments, in a European context, warrants different treatment from that foreseen by Basel."
Targeting 100%
Copenhagen-based Nykredit Realkredit A/S, Europe's biggest issuer of the mortgage-backed securities, said it won't give up efforts to remove the cap altogether.
"Of course 60 percent is better than 40 percent, but we certainly hope it will be higher than 60," Jesper Berg, a member of the executive board at Nykredit Bank and head of regulatory affairs at Nykredit Realkredit in Copenhagen, said by phone. "We're still going to push for 100 percent."
According to Fitch Ratings, tougher liquidity rules probably won't, in isolation, hurt demand for covered bonds, meaning the fallout on prices is likely to be limited.
"We believe that any change in demand for Danish mortgage bonds arriving from the EU ruling covered bonds Level 2-assets will be mitigated by other domestic investors," Jens Hallen, a senior director at Fitch, said today in an interview in Copenhagen. "Other Danish investors will be standing by, ready to pick up the bonds if the banks can't buy as many as they used to but pricing may change a bit. Demand will be there if only the price is right."
'Unique' Market
The Nykredit Index of Denmark's most-traded mortgage bonds touched a record this week, and traded less than 0.01 percent off that high yesterday, according to data compiled by Bloomberg.
Talks so far have centered on the "unique characteristics" of Denmark's mortgage market and the fact that covered bonds, which are mostly AAA-rated, have a proven record as stable funding, Beltoft said.
"We are in regular touch with the Danes on the issue of how covered bonds will be treated," Chantal Hughes, spokeswoman for Barnier, said in Brussels yesterday. "As previously indicated, the commission recognizes that appropriate treatment for Danish covered bonds is warranted."
Still, legislation won't be adopted until the summer and "we can't pre-empt what will be in that text, which also requires college endorsement," Hughes said.
Awaiting Signals
Denmark is also waiting for signals from the EU commission on whether it will follow Basel and EBA recommendations to apply a so-called haircut to covered bonds. That would force banks to book the securities at only 85 percent of their market value.
"We're far more willing to accept a haircut than we are to accept a cap on how much banks can hold," Berg at Nykredit said.
Nordea Bank AB, Scandinavia's biggest lender, is already preparing for an outcome that will turn covered bonds into second-class liquid assets, albeit with some "special privileges," Anders Jensen, chief executive officer of Nordea Denmark, said last week.
"This is by no means a catastrophe," Jensen said then. "But it will entail some costs."