Bomber-Plane Budget by U.S. Air Force Projected to Double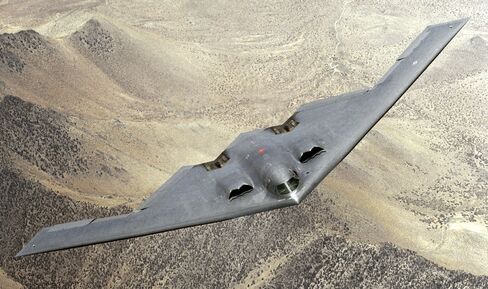 The U.S. Air Force projects that its annual spending on long-range bombers will almost double after 2019 as it seeks a new stealth aircraft that may pit Northrop Grumman Corp. against a joint bid from Lockheed Martin Corp. and Boeing Co.
The service's total budget for bomber production and upgrades will jump to about $9.5 billion in fiscal 2020 from less than $5 billion for the year beginning Oct. 1, according to a Pentagon document obtained by Bloomberg News. After that, spending would remain greater than $9 billion a year before dropping to $8 billion in fiscal 2024.
"The current goal is to achieve an initial capability in the mid-2020s" for the new Long-Range Strike Bomber while also upgrading the B-2 stealth bomber made by Falls Church, Virginia-based Northrop and the older non-stealth B-1 and B-52, according to the plan that was submitted to Congress last month but had not previously been disclosed.
The new bomber is described by the Air Force as vital to reaching far-flung, heavily defended targets worldwide. The service has said it may buy as many as 100 of the new aircraft in a program that may top $55 billion, generating billions of dollars in revenue for the contractor chosen to build it.
Bethesda, Maryland-based Lockheed, the biggest U.S. government contractor, and Chicago-based Boeing, which is No. 2, said in October that they planned to bid on the project as a team. Northrop Grumman, which has the advantage of its experience on the B-2, hasn't announced that it intends to bid.
The report does doesn't incorporate the constraints of the automatic budget cuts called sequestration, which are scheduled to resume in fiscal 2016.
Transport, Reconnaissance
In addition to funding for bomber programs, the Pentagon report, "Annual Aviation Inventory and Funding Plan" for fiscal years 2015 to 2044, outlines long-range plans for fighters, drones and helicopters.
It anticipates continued purchases of Lockheed's C-130J transport plane, buying 32 more by 2021 for use by special operations forces as AC-130 gunships.
In addition, the Marine Corps will continue to purchase the aircraft, the first version of which flew in 1955, made at Lockheed's Marietta, Georgia, facility as an aerial tanker, "expanding its inventory of this aircraft, which has proven its combat effectiveness and reliability."
Boeing's P-8 Poseidon reconnaissance aircraft didn't fare as well. The Pentagon said in the report that the Navy, "compelled by fiscal restraints," has cut its planned inventory to 109 from 117.
The report also outlines steps the Navy is taking to make up for delaying the purchase of 33 F-35C aircraft from Lockheed beyond fiscal 2019 for budget reasons.
These include extending the service lives of 150 Boeing F/A-18A-D jets and accelerating the conversion of older F/A-18C models into the newer E/F jet.
The Navy also is undertaking a program to extend to 9,000 hours the current 6,000-flight-hour life of the E/F aircraft.
Before it's here, it's on the Bloomberg Terminal.
LEARN MORE