Billionaire Lowy Offers A$300 Million Westfield Sweetener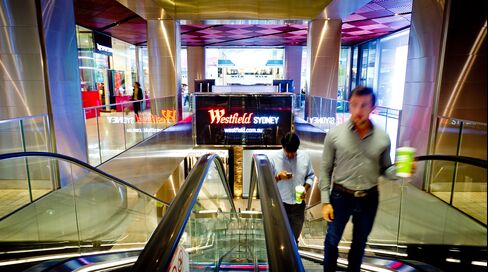 Westfield Group said it plans to sweeten its restructure proposal by A$300 million ($279 million) to allay concerns raised by shareholders of the publicly traded trust it manages.
The improvement would come from a reduction in the debt of the new entity, Scentre Group, which would hold Westfield's Australia and New Zealand malls, and would boost its net tangible assets and earnings this year, Westfield said in a regulatory filing yesterday. Investors in Westfield Retail Trust, which jointly owns the domestic malls, would still receive 51.4 percent of Scentre under the reorganization, according to the filing.
Australia's biggest shopping center company in December proposed splitting its operations, with Scentre managing itself. The plan, which would enable the new Westfield Corp. to focus on expanding overseas, has drawn the ire of many Westfield Retail shareholders, who balked at the A$1.9 billion they would probably pay for Scentre's management rights, as well as the high debt levels in the new vehicle.
"When is a A$300 million sweetener not a A$300 million sweetener? When I have to share half of it with someone else," said Stuart Cartledge, managing director of Melbourne-based Phoenix Portfolios, which owns Westfield Retail shares. "The value of Scentre Group will be enhanced by A$300 million but Westfield Retail shareholders are only entitled to about half of that."
Lower Debt
Westfield Group shares slipped 0.1 percent to A$10.63 at the close of trading in Sydney, compared with a 0.8 percent drop in the benchmark S&P/ASX 200 index. Westfield Retail securities rose 1.3 percent to A$3.19.
Westfield Group and Westfield Retail shareholders are due to vote on the proposal May 29.
The debt held by Scentre will fall to 37.3 percent of assets from 38.4 percent under the original proposal, Westfield said. Funds from operations are expected to rise to 21.75 Australian cents a share in the year ending Dec. 31, from 21.5 cents in the earlier plan, and net tangible assets are forecast to improve by 6 cents a share to A$2.88.
Scentre is targeting a gearing range of between 30 percent and 35 percent "over time," Westfield said yesterday, compared with its earlier target of as high as 40 percent.
'Right Direction'
"The reduction in gearing is a step in the right direction," John Kim, Sydney-based head of real estate research at CLSA Asia Pacific Markets, wrote in a client note dated yesterday. The A$300 million reduction "is less than half of what we estimate is fair."
A scenario in which the ratio of net debt to total assets falls to 36.1 percent would require a further reduction of A$351 million in Scentre's debt, Kim said. To reduce gearing to 35 percent, Scentre would need to cut debt by a further A$666 million, he said.
Westfield Corp.'s gearing would also fall to 34.4 percent from 36.3 percent after the sale of A$1.1 billion of three U.K. properties, and the adjustment announced yesterday, the company said.
Westfield made the change "in response to some concerns raised," Chairman Frank Lowy said in the statement. "The change improves the terms on which Westfield Retail security holders are gaining their ownership interest in Westfield Group's industry leading operating platform."
Lowy, Australia's fifth-richest individual with a net worth of $5.3 billion, according to the Bloomberg Billionaires Index, will be chairman of both Westfield Corp. and Scentre after the restructure.