Rajan Must Be Respected by Incoming Government, Chidambaram Says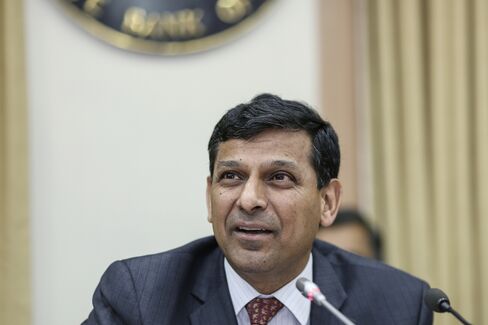 Reserve Bank of India Governor Raghuram Rajan's appointment must be respected by any administration that takes power after Indian elections ending May 16, Finance Minister Palaniappan Chidambaram said.
"The central bank governor was appointed based on his reputation," Chidambaram said in an interview on the sidelines of an Asian Development Bank meeting in Astana, Kazakhstan, on May 3. "Every government must respect this appointment."
Chidambaram's Congress party has trailed in opinion polls to the main opposition Bharatiya Janata Party as it seeks to extend its 10-year rule. Consumer-price inflation exceeding 8 percent, the second highest rate in Asia, has eroded the purchasing power of more than 800 million Indians who live on less than $2 a day.
Rajan last month dismissed talk of any differences with the BJP as media-invented "speculation." His job will be safe if Narendra Modi's party comes to power, Piyush Goyal, the organization's treasurer, said in an April 27 interview.
Goyal had earlier been quoted by the Economic Times newspaper saying that Rajan's rate increases had aggravated India's economic woes. Calls for lower interest rates by BJP leaders -- including Arun Jaitley, who has been introduced on the campaign trail as India's next finance minister -- prompted speculation the party wouldn't support Rajan's inflation fight.
'Pretty Balanced'
Rajan has raised the benchmark repurchase rate 75 basis points to 8 percent since he took over the RBI in September. He left the rate unchanged on April 1 and said further tightening isn't anticipated if consumer-price gains stay on course to hit 8 percent in January 2015 and 6 percent a year later.
The RBI has been "pretty balanced" in maintaining price stability, according to Chidambaram, a lawyer with a degree from Harvard Business School who oversaw Rajan's appointment as governor. Consumer-price inflation reached 8.3 percent in March, the first acceleration since hitting a record high of 11.2 percent in November.
"As long as we have high inflation how can you ask the RBI to lower rates dramatically," Chidambaram said. "We have to address supply side constraints. Bring down inflation before the monetary policy can come to aid of growth."
Chidambaram said the new government's biggest challenge will be to increase the supply of goods to the market through changing laws and building more infrastructure. Monetary policy and fiscal policy "have been set right," he said, adding that "the people of India will accept inflation at 4 percent."
Stocks Surge
Investors are betting on Modi, the BJP's prime ministerial candidate, to bolster an economy poised to grow near the slowest pace in a decade. The benchmark S&P BSE Sensex has advanced 14 percent since Sept. 13, when Modi was named a candidate for prime minister, with the rupee rising 5.5 percent.
Chidambaram and Prime Minister Manmohan Singh have spearheaded plans to reverse the growth slowdown since September 2012, when the government allowed foreign investment in sectors such as multibrand retail and aviation. The government narrowed the budget gap to 4.6 percent of gross domestic product in the last financial year and planned to cut to it a seven-year low of 4.1 percent.
Chidambaram said the government deserves credit for the rally in the stock market and said India's economy was still expanding at a faster rate than most other countries.
India's government forecasts the economy expanded 4.9 percent in the fiscal year ended March 31, compared with a decade-low 4.5 percent in the previous year.
"I'm not happy that we're growing at 5 percent, but at the same time, the whole world is recovering," Chidambaram said. "Therefore our recovery also takes some time."
Before it's here, it's on the Bloomberg Terminal.
LEARN MORE