Legislative Prayer Backed in U.S. Supreme Court Ruling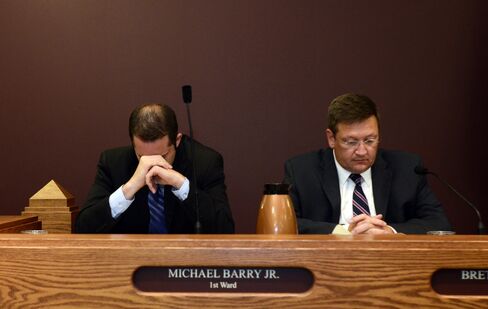 A divided U.S. Supreme Court gave government officials more room to incorporate religion into civic life, ruling that the Constitution lets a New York town board start most meetings with a Christian prayer.
The justices, voting 5-4, said officials don't have to require prayers to be nonsectarian. Two residents argued that the Town of Greece is unconstitutionally coercing its citizens by inviting local religious leaders to deliver monthly prayers that often explicitly invoke Jesus.
The ruling, the court's first on the issue in three decades, extends a 1983 decision that said legislative bodies could begin sessions with nondenominational blessings. The court today applied that decision to local government meetings.
"Legislative prayer lends gravity to public business, reminds lawmakers to transcend petty differences in pursuit of a higher purpose, and expresses a common aspiration to a just and peaceful society," Justice Anthony Kennedy wrote for the court.
The vast majority of state legislative bodies open the day with some kind of prayer, as do both houses of Congress. At the Supreme Court itself, the marshal calls each session to order with the words "God save the United States and this honorable court."
Familiar Split
The case split the court along familiar lines, with the four Democratic appointees -- Justices Ruth Bader Ginsburg, Stephen Breyer, Sonia Sotomayor and Elena Kagan -- in the minority. Ginsburg, Breyer and Kagan are Jewish, while the court's other six justices are Catholic.
Kagan wrote that the town's practice "does not square with the First Amendment's promise that every citizen, irrespective of her religion, owns an equal share in her government."
The Constitution's First Amendment bans government "establishment of religion." The Obama administration backed the town in the case.
The ruling underscores the continuing impact of the 2006 retirement of Justice Sandra Day O'Connor. In deciding against Greece, a New York-based federal appeals court adopted an O'Connor-crafted test for church-state separation questions. The appeals court said the town's practice "must be viewed as an endorsement" of Christianity, violating the Constitution.
'Endorsement Test'
Kennedy's opinion mentioned that "endorsement test" only in passing. Instead, he asked whether the town was coercing its residents into praying, invoking a test that gives government bodies more leeway. Kennedy said residents and board members were free to leave the room during the prayer.
"In the general course, legislative bodies do not engage in impermissible coercion merely by exposing constituents to prayer they would rather not hear and in which they need not participate," Kennedy wrote.
O'Connor's successor, Justice Samuel Alito, joined Kennedy in the majority, along with Chief Justice John Roberts and Justices Antonin Scalia and Clarence Thomas.
Thomas and Scalia joined only part of the opinion, writing separately to say they would have gone further in allowing government-sponsored prayer. Thomas wrote that only "actual legal coercion" -- such as taxes that support a church or mandatory attendance laws -- raised potential problems under the First Amendment.
Objecting Residents
The two Greece residents, Susan Galloway and Linda Stephens, said that over a four-year period, more than three-quarters of the town's prayers were explicitly Christian, containing references to Jesus and often seeking audience participation.
"The Supreme Court just relegated millions of Americans -- both believers and nonbelievers -- to second-class citizenship," said Barry Lynn, executive director of Americans United for Separation of Church and State, which represented the two women.
The town, a suburb of Rochester, said it doesn't shut out members of other faiths. After the two women complained, officials arranged for opening prayers to be delivered by a Jewish man, a Baha'i leader and a Wiccan priestess who invoked Apollo and Athena.
Kennedy said the town didn't improperly discriminate in selecting its prayer-givers. He said Greece "consistently chose Christian prayer givers" because it "limited its list of clergy almost exclusively to representatives of houses of worship situated within Greece's town limits."
'Religious Diversity'
"Prayers like these have been taking place in our nation's legislatures for over 200 years," said Eric Rassbach, a lawyer with the Becket Fund for Religious Liberty, which supported the town. "They demonstrate our nation's religious diversity and highlight the fact that religion is a fundamental aspect of human culture."
Kagan accused the majority of "blindness" toward the actual circumstances in Greece.
"Month in and month out for over a decade, prayers steeped in only one faith, addressed toward members of the public, commenced meetings to discuss local affairs and distribute government benefits," she wrote.
The Supreme Court has taken up religion cases only sparingly since Roberts became chief justice in 2005. In perhaps the biggest ruling before now, a 5-4 decision in 2010, it revived a federal law designed to protect a Christian cross erected as a war memorial in a national preserve.
Today's case is Town of Greece v. Galloway, 12-696.