JPMorgan at Odds With IMF in Touting Emerging-Market Debt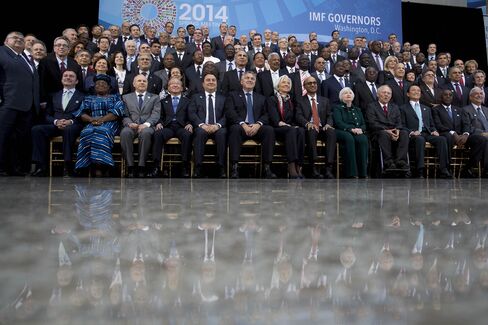 JPMorgan Chase & Co., the biggest U.S. bank by assets, sees no signs of a bubble in emerging-market corporate debt, challenging the International Monetary Fund's warning on rising risks in the bond market.
Bonds sold by developing-country companies account for just 3 percent of gross domestic product in these economies, compared with 35 percent in the U.S., according to Joyce Chang, global head of research at the New York-based bank. Most of the lenders selling debt are rated investment grade or backed by their governments while maturities have been extended, she said in a May 2 interview.
The IMF warned last month that some emerging-market companies are vulnerable to capital flight if global borrowing costs rise further as the Federal Reserve gradually withdraws its expansionary monetary polices. Corporate debt for developing countries tracked by Bank of America Corp. surged to $1.1 trillion from $411 billion at the end of 2009 as companies took advantage of low interest rates to raise cash.
"I would really challenge some of the views from official creditors that emerging-market corporate debt is the next asset bubble," Chang, who was promoted from head of fixed-income research last month amid a leadership reshuffle in the global banking division, said in New York. "The credit quality of emerging-market issuance has been pretty good."
Olga Stankova, a spokeswoman for the IMF, didn't respond to a phone call and an e-mail seeking comment.
Crisis Catalyst
Growth of emerging-market bonds is mostly driven by supply-demand imbalances rather than speculation, Chang said.
The rise of developing-country debt has happened after the supply of fixed-income products from mature markets shrank following the 2008 global financial crisis, according to Chang.
At the same time, banks, pension funds and insurance companies are required to hold more bonds in their investment portfolio as part of tighter financial regulation, boosting the demand for emerging-market securities, she said.
"You have a structural shift in the market with a supply and demand imbalance and emerging markets have benefited from the lack of alternative investment opportunities," Chang said. "The increase in issuance is obviously something to flag, but then you have to look at whether the issuance is short-term debt for refinancing. EM issuance is the longest duration within fixed income and EM is not facing a wall of maturities."
The IMF said on April 9 in a report that corporate bonds of developing nations are vulnerable in an environment of rising global interest rates and slower growth prospects. About $740 billion, or 35 percent of emerging-market outstanding debt, may be at risk of default in a scenario involving a 25 percent increase in borrowing costs and a 25 percent drop in corporate earnings, according to the Washington-based fund.
JPMorgan's Corporate EMBI Broad Diversified Index returned 3.8 percent this year through May 2. The gauge lost 0.6 percent last year, the first annual decline since 2008.